Topic: Getting ready to pick up our new TT.
---
Posted By: jmkms124 on 09/25/10 03:32pm


Just got done installing a new Tekonsha P3 Brake controller in our Yukon because we have an appointment next Saturday to pick up our new travel trailer. My wife & I just purchased a Bullet Premier 29REPR with BlackBerry Interior & Full Body Paint.

I'm extremely excited, can't wait.

Jim & Missy


---
2006 GMC Yukon XL Denali
2011 Keystone Bullet Premier 29REPR

---
Posted By: larry_kruzan on 09/25/10 04:06pm


Congrats!!!!

Pictures please..

Larry


---
Larry and Debbie Kruzan

We never turn a corner without wondering in amazement at God's creation!

---
Posted By: la.razorbackfan on 09/25/10 07:23pm


Congrats on the new TT! Hope it brings lots of fun and good memories!


---
Smith "Party of Four" +1
Dad, Mom, Daughter and Son
2013 Ram 1500 Bighorn "Montana Edition" 4X4, 5.7L Hemi, 3.92 gears
2011 Coleman CT280BH by Dutchmen/THOR


---
Posted By: fla-gypsy on 09/25/10 08:18pm


Congrats, we need pics


---
This member is not responsible for opinions that are inaccurate due to faulty information provided by the original poster. Use them at your own discretion.

09 SuperDuty Crew Cab 6.8L/4.10(The Black Pearl)
06 Keystone Hornet 29 RLS/(The Cracker Cabana)


---
Posted By: jmkms124 on 09/27/10 02:24am


After we get it home on Saturday we will take some pics. & post.
It is going to be a long week...


---
Posted By: Jpbeck1 on 10/03/10 11:09am


Nice trailer!


---
Have Fun,
2007 Jayco JayFeather 20BH
2009 Ford F150 5.4L

---
Posted By: jmkms124 on 10/03/10 10:29am


Here are the pictures of our new travel trailer we picked up yesterday. (I hope the link works)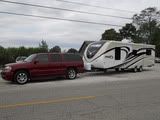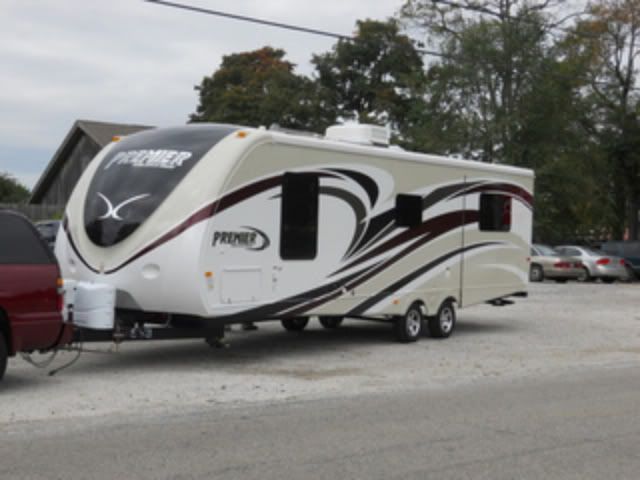 Ok, Now the tires, should I replace them?

TowMax STR, ST205/75R14 Power King, DOT Code 83B2 GPB, Made By
SHANDONG HENGFENG RUBBER & PLUSTIC CO., LTD. SHANDONG, CHINA

I need your input & opinions.

Thanks,



Moderator edit to re-size picture to forum limit of 640x480px maximum.



Jim

* This post was last edited 10/03/10 11:31am by jmkms124 *


---
Posted By: mrtwister on 10/03/10 02:54pm


Congratulations!!!!


---
Posted By: Bob Landry on 10/03/10 03:01pm


I would replace any tire that has China stamped on it.


---
2011 Tundra 5.7L
2011 Keystone Outback 277RL


---
Posted By: larry_kruzan on 10/06/10 03:43pm


Looks NICE!!! Is it new? If so, I think I would ride the rubber you have for this season (are you planning to use it this winter?).

My Jayco came with Marathons on it and after almost 10,000 they look good. I have no idea just how much life we should expect from our tires but as a saftey precaution I check the tire temps every time we stop. I picked up a handheld laser thermometer from Harbor Freight for $30 just after we got our TT. It picked up a TV brake rotor that was getting hot in time to save it - worth every dime.

I have been told to change them at 5 years - but with the road miles we put on the TT, it will be much sooner for us.

Congrats!
Larry


---