luv2skyski

Stockbridge, Georgia


Senior Member


Joined: 05/30/2006

View Profile
Offline

---
Georgia Mountain Fairgrounds – Hiawassee, GA – 08-08-2008 thru 08-10-2008

Participants: Dave, Kim, Ashley, Kris (my sister), Rob, Jen, Emma, Trevor, Jerry, Lori, Ken, Kayla, Anna

Campground Rating: 3 (out of 5)

Rating reasons / About the campground: no camp store, town of Hiawassee very close (Ingles less than 1 mile), camp sites not very level, mens shower house (clean - 2 toilets, 1 urinal, 2 shower stalls), great playground for the kids, nice campground roads for the kids to ride their bikes (a little hilly), lots of hiking within a short drive

Campsite number: 40 (not level – see about our trip for pictures)

About our trip: Thanks to my sister, Kris, who was down visiting, who helped immensely with the packing and general getting ready to camp. We were very happy that she could accompany us on the trip. Thanks to Rob and Jen for letting her stay in their TT (me thinks she would be a little long for the dinette bed).

Kim was able to get away from work at 3:00pm (Miller and Gaines time conversion – always add 1-3 hours on top of the time Kim says she will be able to leave – in this case, we left the house a little after 6:00) on Friday. We had planned on having hot dogs at the campground but opted for our favorite eating establishment (me and my sister's) – Taco Bell instead. Arriving at the campground around 10:30, we launched the boat and Kim and Kris were going to drive it around to the campsite. Ashley and I parked the trailer and then made our way across the road (actually quite a ways) to meet them there where we would moor it. Of course you can see it coming…they weren't there. They should have beat us by a sizeable margin. Come to find out they just made a wrong turn.

Usually I'm able to level the truck without having to use the camper jacks but this was not going to be the case with this site.



Not only was it small but it wasn't level. See the jack in the picture…it was almost at it's full length of travel. It would have been very difficult to get the camper off even if we wanted to. The right rear tire also has 3 2x8's under it!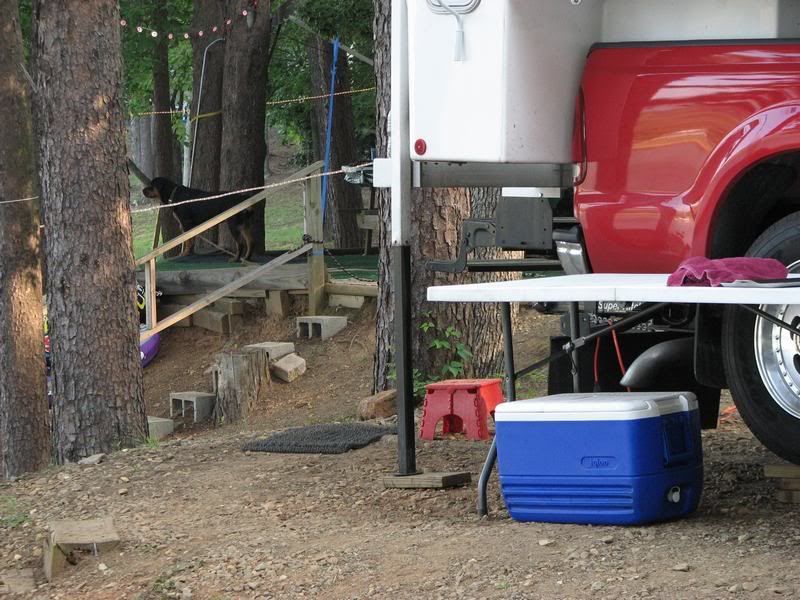 We spent both days on the water with the toys. Teaching the teenagers how to wakeboard and water-ski was a lot of fun.
Kayla wakeboarding: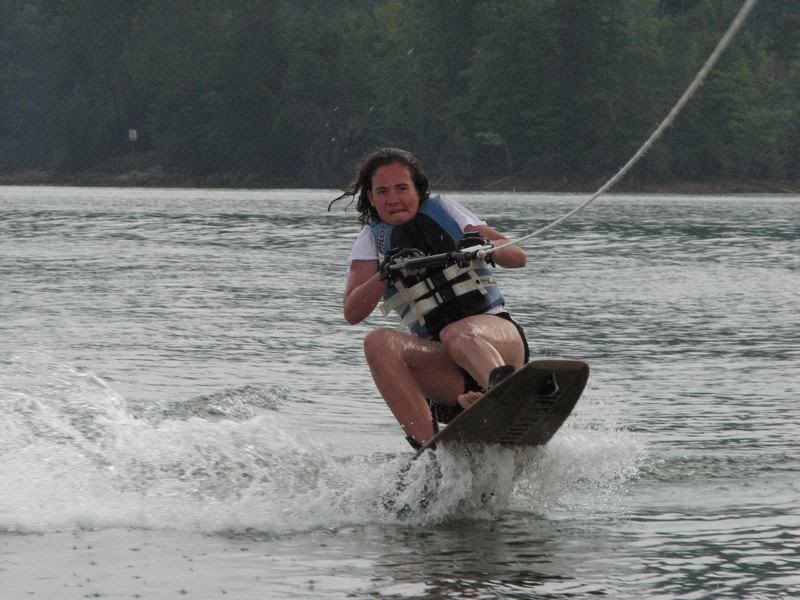 Ken wakeboarding: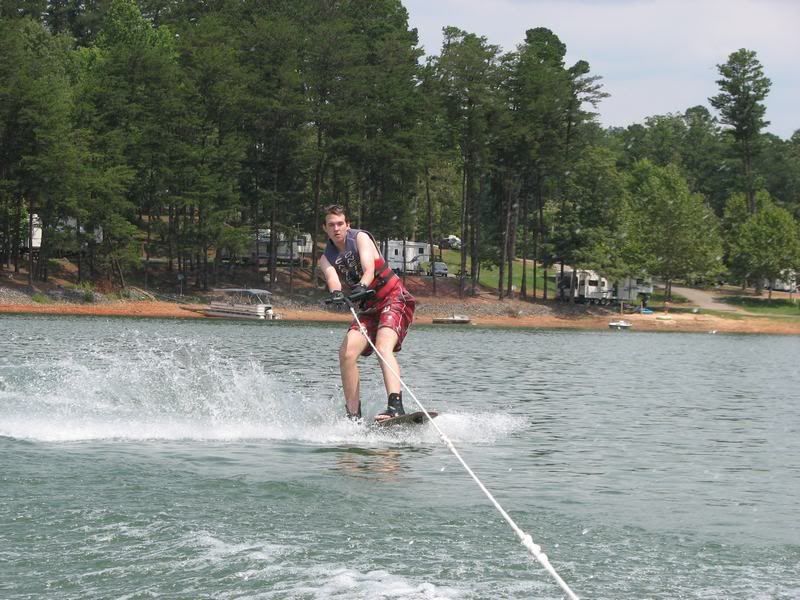 Ken happy after getting up: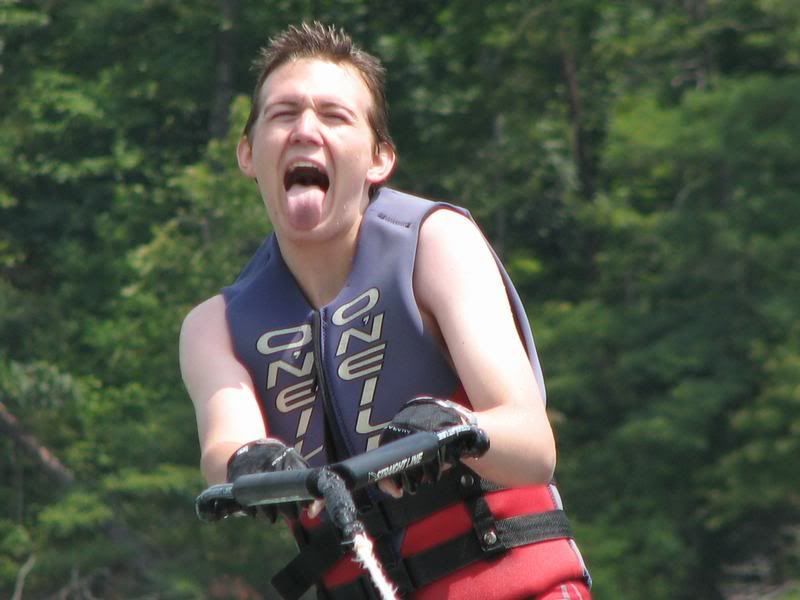 Unfortunately, Ana wasn't able to get up but not for lack of trying! But, thankfully it wasn't a waste because we were able to get some funny expression type pictures! Ana, we'll get you up next time I promise!
Ana trying to wakeboard: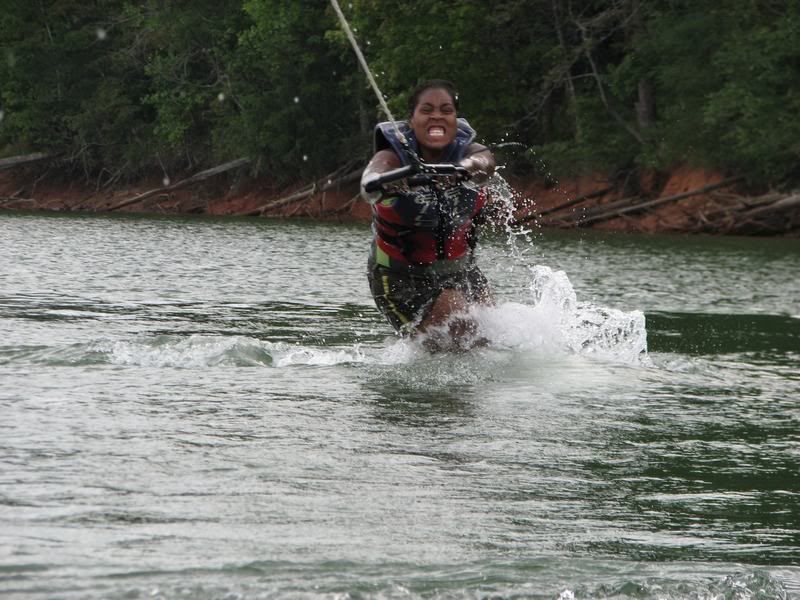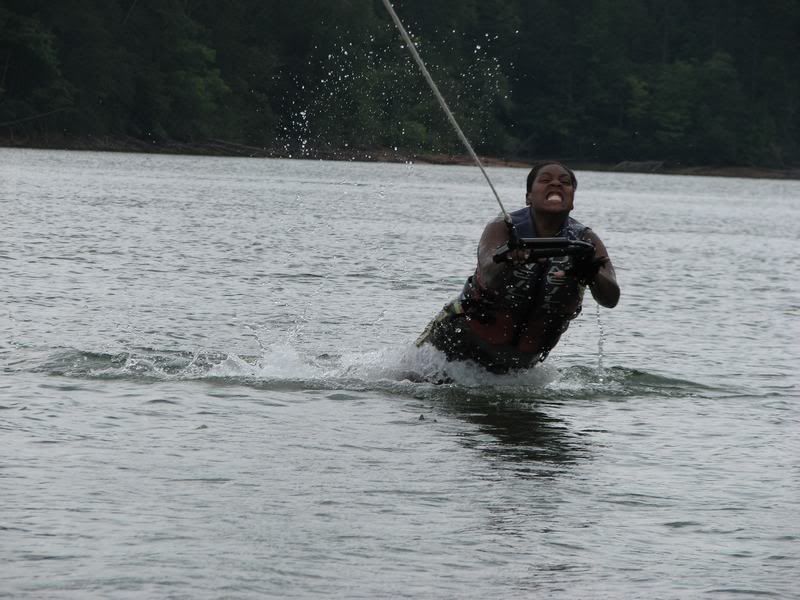 Ana trying to ski: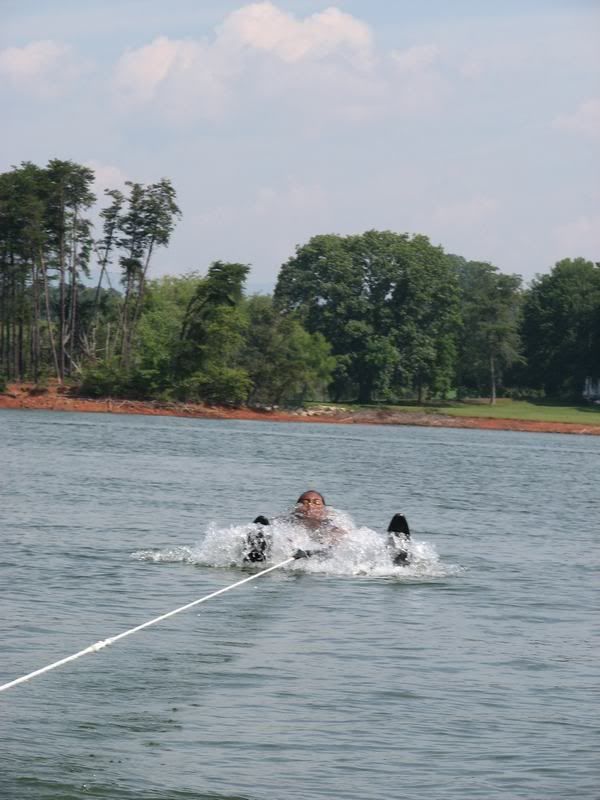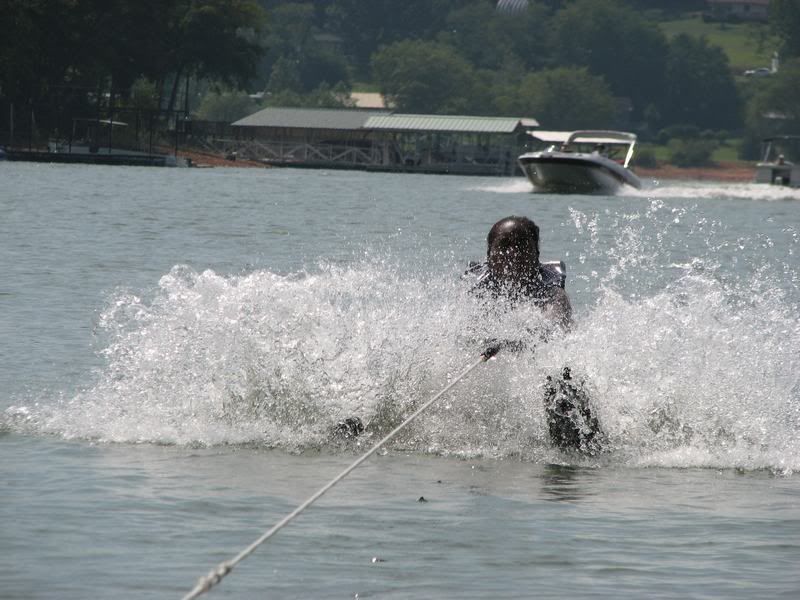 Of course we didn't forget about the younger kids:
Ashley skiing: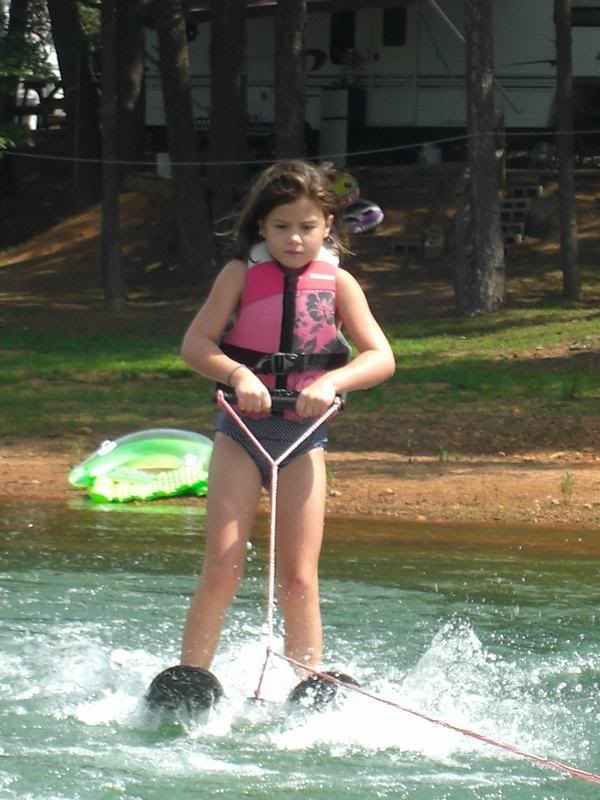 Emma skiing: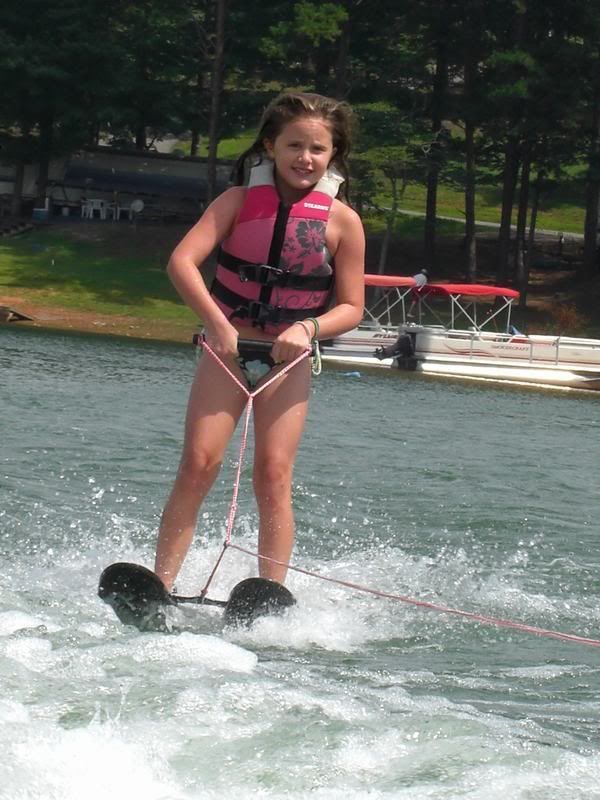 Trevor skiing:



We had fun with Rob's canoe and Jerry and Lori's kayak.
The Dave/Ashley canoe team just barely being edged out by the Rob/Trevor kayak team: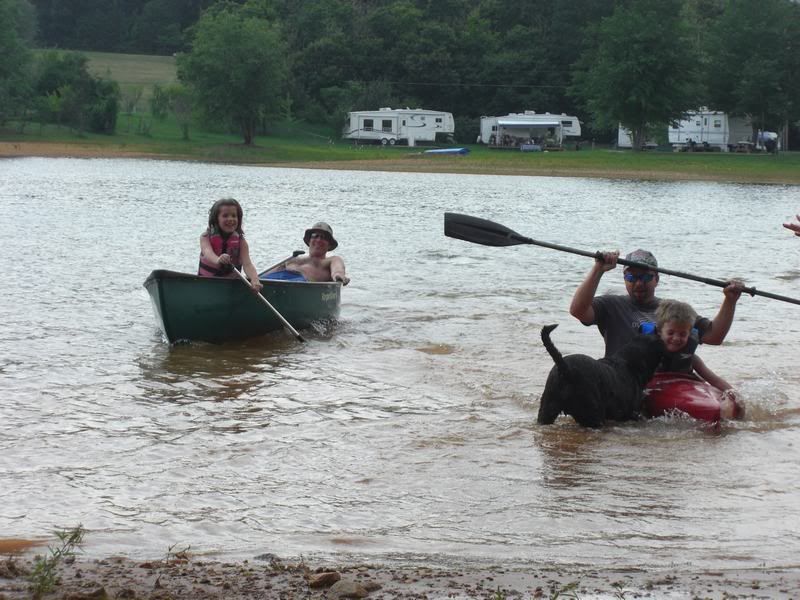 Emma in the kayak: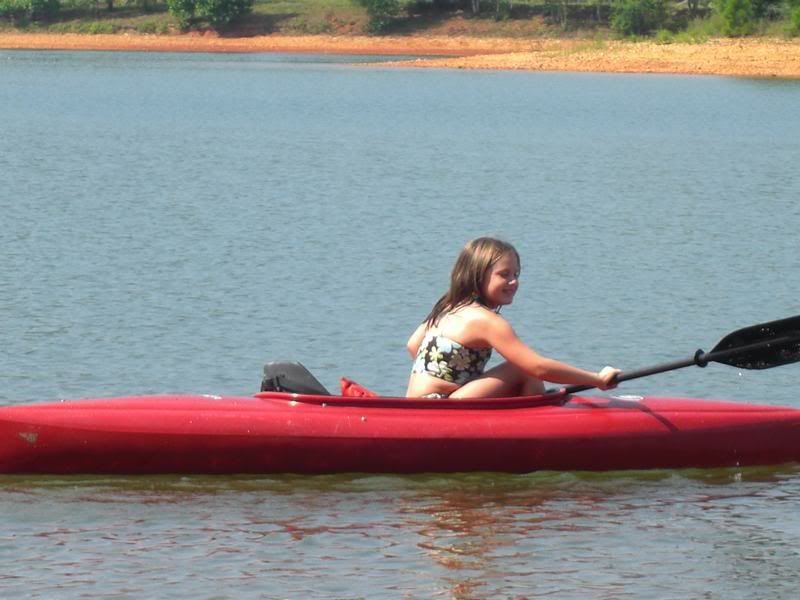 Some of us had more fun in the kayak than others…Ken towing Kayla and Ana:



Some of us relaxed on the shore (Kim and Kris hanging out):



And how can you have a camping trip without a campfire?
Kim, Dave, Kris:



Kayla and Rob: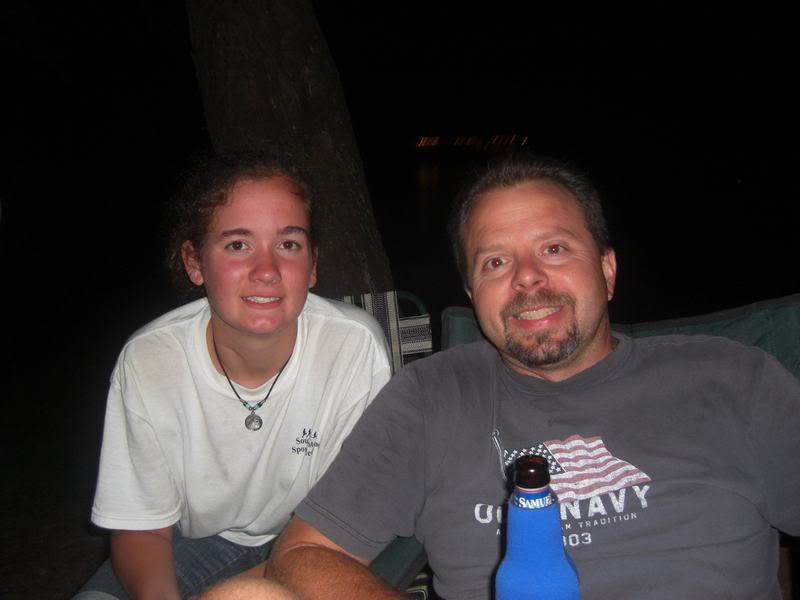 Lori and Jen:


Ken, Rob, Jerry, Lori, and Jen:



Saturday night we had the most delicious ribs. Kim cooked them all day long in the crock-pot with Sweet Baby Ray's Hickory and Brown Sugar BBQ sauce. Then I finished them off on the grill. WOW! Of course, we all ate too much.

And a trip to a campground couldn't be complete without one of "those" neighbors. After it was good and dark the Griswold's next door fire up the Christmas lights (yep…that's a double flood light bolted onto the tree!):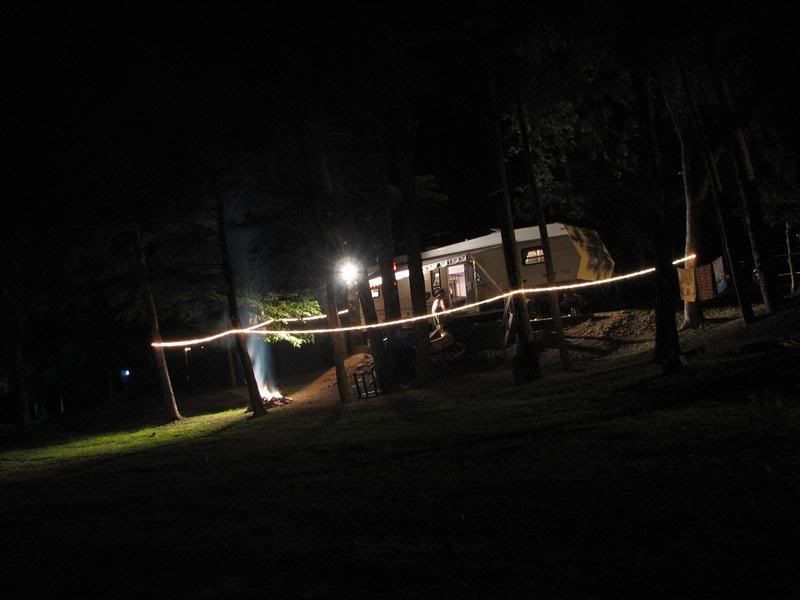 Here's the youngsters hanging out on the tube: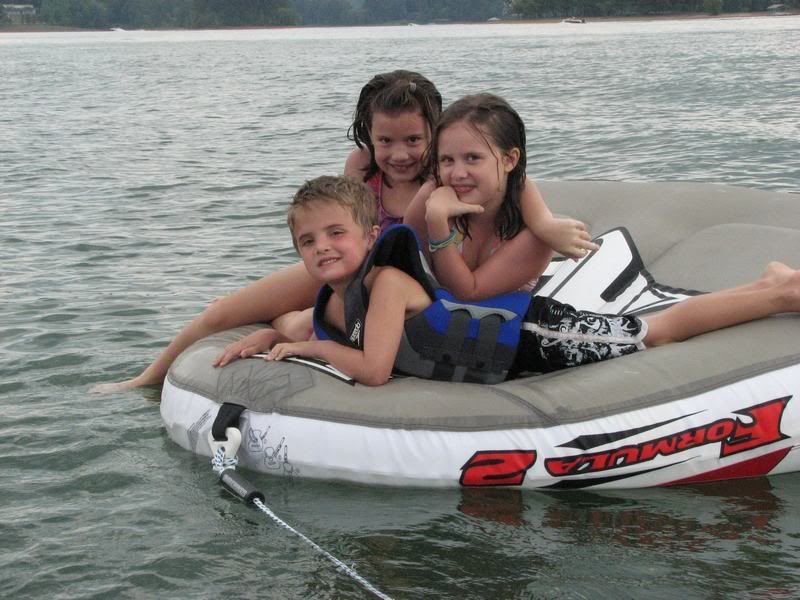 Finally, here's the boat moored with a mountainous backdrop: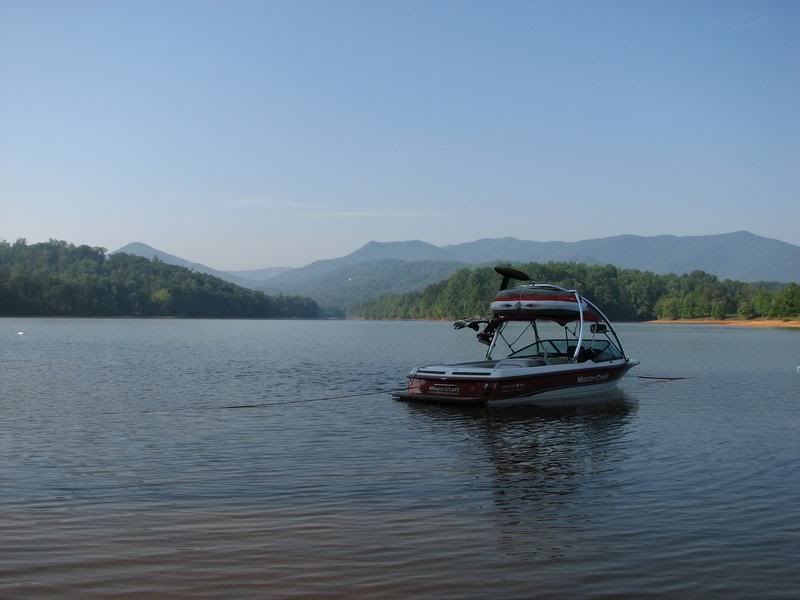 Until next time, Dave.


---
2004 Northern Lite 10-2000RR, 1999 F250

luv2skyski.com

Northern Lite Owners

Truck Camper Enthusiasts Map



4 out of 3 people have trouble with fractions.




luv2skyski

Stockbridge, Georgia


Senior Member


Joined: 05/30/2006

View Profile
Offline

---
rwmmdj wrote:
Wow, looks like a great time. We've talked about going to this park. Now we just might do it! Hoping for that kind of fun this weekend on the other end of this state at Westpoint!

Don't tell me this will be your first camping trip in Georgia - I talking about you visited states map! It's an nice campground, you just have to pick and choose your site. The lake it's on is my all time favorite! Dave.