Topic: Can 1/2 ton truck pull a travel trailer?
---
Posted By: lawrence617 on 03/22/09 06:46pm


I have sold my 37ft fifth wheel and 2006 GMC 2500HD Duramax/Allison truck. As crazy as it may sound, now tinkering with idea about purchasing small travel trailer. My question is if I purchase a 1/2 ton truck, can it pull a travel trailer? Guess it depends on weight of travel trailer. Any suggestions on max weight and length of travel trailer to stay under in order to pull with a 1/2 ton truck?


---
2009 Jayco Flight 26BH Travel Trailer
1998 Dodge Ram 1500 4x4 Ext Cab Long Bed 5.2L
Reese Equalizer Distribution Hitch
Reese Brake Controller


---
Posted By: Hornet28BHDS on 03/22/09 06:52pm


Half ton trucks can make for a great towing rig when paired with the right TT. Good luck!


---
2006 Hornet 28BHDS-Bunk House, Dual Slides

2006 Dodge Ram 2500 HD
5.7L Hemi, Factory Towing Package
Reese Brake Controller, WD Hitch and Sway Bar

Life is short, why not spend it in an RV!

SPRING HAS SPRUNG!

---
Posted By: lawrence617 on 03/22/09 07:01pm


Hornet28BHDS,
Any recommendation of travel trailer for a 1/2 ton truck.


---
Posted By: riverrat2601 on 03/22/09 07:02pm


I tow a 27' and my buddy tows a 30' trial lite with a tahoe. He does'nt seem to have any problems, but that is about as large as I would go with a 1/2 ton. Good luck.


---
riverrat rockwood 2601 / chevy tahoe Z71 Equal-izer / prodigy


---
Posted By: DarylD on 03/22/09 07:11pm


I have a 1998 Ford F150 Extended cab 2 wheel drive and I tow a 25 Jayco Jaflight 25RKS with a weight of about 6,100lbs loaded. I live in Minnesota and we usually do not go to a campsite more than 3 hours away up big hills or mountains with the TT. I do have a hard time up steep grades. Meaning, I can go from 60MPH down to 45MPH on a good sized hill.
My truck has over 185,000 miles and I have not rebuilt the trany YET.
I would say it's possible, but my next TV will be a F350.


Daryl and Sandy
HAPPY CAMPING!!!
---
HAPPY CAMPING!! ">

Daryl and Sandy D.
2007 Jayco Jayflight 25RKS
Jayco Jafari member 29199
2006 Ford F150 4 x 4 XLT Lariat Crew Cab with Triton 5.4L 3 Valve (139" Wheel Base)
Equal-i-zer Hitch - Prodigy Brake Controller
US Navy 1982 - 1990

---
Posted By: kknowlton on 03/22/09 07:04pm


Short answer: sure.
Long answer: depends on the truck and the trailer.


---
2007 Toyota Tundra CrewMax 5.7L V8 w/ tow pkg, Equal-i-zer
2013 Rockwood Mini-Lite 2502S


---
Posted By: time2roll on 03/22/09 07:11pm


lawrence617 wrote:
Any recommendation of travel trailer for a 1/2 ton truck.



1/2 ton truck tow ratings can range from about 3,000 to 11,000 pounds. So without specifics of the motor, gearing, tow package, cab, bed etc all I can suggest is a pop-up.


---
2001 F150 SuperCrew
2006 Keystone Springdale 249FWBHLS
675w Solar pictures back up
---
Posted By: JIMNLIN on 03/22/09 07:14pm


some 1500 trucks have gvwrs over 8000 lbs and 6000 axle capacities with E load range tires with 375 + hp engine. Some 1500 trucks have only a 6+ k gvwr along with small 3700 axle capacities and P tires and a little V6 engine.

As other posters say what is the truck your buying towing/hauling specks. Its all about numbers


---
"good judgment comes from experience, and a lot of that comes from bad judgment" ............ Will Rogers

'03 2500 QC Dodge/Cummins HO 3.73 6 speed manual Jacobs Westach
'97 Park Avanue 28' 5er 11200 two slides


---
Posted By: campinginthewoods on 03/22/09 07:18pm


Hi I tow a TT with my 96 Silverado. And the TT is a 1998 Coachmen Catalina Lite. The truck pulls with no problems. It is a 25 foot and wieghs about 3500. You will get more answers with more info on what the truck has. But I do see alot 1/2 tons pulling 25-28foot range. Good Luck


---
"Our family is a circle of love and strength.
With every birth and every union, the circle grows. Every joy shared adds more love.
Every crisis faced together makes the circle stronger. "


---
Posted By: ford truck guy on 03/22/09 07:21pm


I towed a 29' Wilderness (no slides) all over with my 1500 and it was a great ride...


---
Me-Her-the kids
2015 Ford F350 SD 6.7
2016 Redwood 38RL Black~Silver



---
Posted By: skipnchar on 03/22/09 07:21pm


Some can tow SOME trailers, some can tow MOST trailers and Some can tow only some very small ones. Mine has towed my trailer over 45,000 miles in 48 states so I'd say "yes" to your basic question.


---
2011 F-150 HD Ecoboost 3.5 V6. 2550 payload, 17,100 GCVWR -
2004 F-150 HD (Traded after 80,000 towing miles)
2007 Rockwood 8314SS 34' travel trailer
US Govt survey shows three out of four people make up 75% of the total population
---
Posted By: havedreamwilltravel on 03/22/09 07:22pm


Hard to recommend anything to tow with what is currently a non-existent truck.

A 1/2 ton truck makes an excellent tow vehicle when you are within all your specs and ratings. The problem lies in the fact that not all 1/2 ton trucks are made equal - and it varies greatly even among the same badged truck depending on the size engine, rear gearing etc. that it has on the lot.

The 1/2 ton SUV. The Yukon Denali - based on the same GMT-900 platform as the Silverado and Sierra. Having the Denali package afforded a LOT more ability with what to tow than if we bought a regular Yukon or Tahoe but yes, you can pull a good size trailer with just about any new 1/2 ton on the market WHEN IT'S PROPERLY EQUIPPED to do so.

Look at my sig to check the stats on the Denali and what we are pulling with it. Does awesome - pulls it up a 10% grade for 9 miles at 55mph with little to no downshifting to get up the hill.

Come on back with a truck or two you are considering and we can help you find a trailer to match it.....

or...

find a trailer you like and we'll help you match it up with a tow vehicle.


---
2007 GMC Yukon Denali - 6.2L 380hp/417ft-lbs,0-60 in 6.2 seconds
2007 Jayco Jayflight 27BH
Equalizer Hitch, Prodigy Brake Control
Our Truck and Trailer


Easy Trailer Mods-NEW pics added 4/10/08





Visited a lot of states, haven't camped in many...yet. ">



---
Posted By: pdvandusen on 03/22/09 07:24pm


I tow a 31' Ultra-Lite with my 1/2 ton truck. It can be done, but I would recommend that you find the TT and then match the truck to the GMVWR to the tow capacity of the truck and leave about 20% more truck tow weight over the GMVWR of the TT. It will tow better and you'll get better MPG in most cases.


---
Doug & Mary Ann Van Dusen and Chewy & Abby (the dogs)
2008 Chevy Silverado 5.3L LTZ 3.73, HD Trailer Pkg.
2008 JayFeather LGT 31E
Equal-i-zer, Prodigy BC and TomTom GPS
The dreaded Champion 3500/4000 Generator

---
Posted By: amykala on 03/22/09 07:27pm


too many variables--depends on the truck, the trailer and your hitch setup

I have a 2008 Nissan Titan and tow a 25 foot Keystone Outback that weighs around 7k loaded, but I also have a Equal-i-zer hitch setup that helps alot with sway and spreading the weight to both axles so I'm not wheelin' it when driving....

give us some ideas of that truck you're thinking of, and possiblities of trailers....

there's also a chart that lists your wheelbase and length of trailer that you can safely tow...


---
Posted By: Jeff-Tracie on 03/22/09 07:33pm


I tow a KZ Spree with my 1/2 ton no problems here.


---
2001 GMC 1500
2007 KZ-Spree 324BHS
GVWR 7500
Ext. Length 33'7"
Dry Hitch Wt. 653

---
Posted By: JBarca on 03/22/09 07:50pm


Yes, a 1/2 ton truck can pull many TT's.

But to narrow the many choices need to know what 1/2 ton you are talking about. They have big engines, small engines high ratio rear axles, low ratios rear axles, and the cab combo are endless.

They will ride life a cream puff. Very smooth. And when used within in the limits of the truck, they make a good TV.

Now the to the TT. This is sort of all over the map but if you look at the GVWR of the, 1/2 tons can tap out somewhere in the 5,500 and 8,000# depending a great number of factors. If you have a crew cab long bed with a cab and a lot of stuff in the truck bed this limits how much you have left over for towing and tongue weight of the TT. The base PU, standard cab, long bed, generally has the highest pull ratings as the truck itself is lighter to start with.

And then there is the SUV world of Suburban, Yukons, Expeditions etc. They too are 1 / 2 tons. However the SUV does weigh more then a PU.

A question for you is, how big a TT do you want? 19 feet long or 30 feet long? With a slide without a slide? Do you want a starter lower end TT or a higher end with higher quality build? I see you use to have a Jayco. Jayco make a lot of light weight or medium weight TT's. The Jayfeather is very light and the Jayflights can be also in the smaller ones. If you are use to the Eagle line and want that higher end quality that does come with weight.

You are use to having that beastly 2500HD DMax. The 1/2 ton of any brand will be a very nice truck, but will not pull or hold up weight like that one.

Good luck and hope this helps.

* This post was edited 03/22/09 08:46pm by JBarca *


---
John & Cindy

2005 Ford F350 Super Duty, 4x4; 6.8L V10 with 4.10
CC, SB, Lariat & FX4 package
21,000 GCWR, 11,000 GVWR
Ford Tow Command
1,700# Reese HP hitch & HP Dual Cam
2 1/2" Towbeast Receiver

2004 Sunline Solaris T310SR
(I wish we were camping!)

---
Posted By: Jesse624 on 03/22/09 08:04pm


Simple answer, yes. But it all depends on the TT weight, size and driving terrain. Alot of mountain driving may be too hard on a 150 auto transmission. Be smart look at the truck's towing and stopping capabilities, and allow 10-15% margin, after accounting for all the carried/towed weight and wind load.


---
Skip & Susie

06 Challenger 5er, 32 ft, 29RLS
03 Silverado, 2500HD, Duramax/Allison, lg bed, crew cab, 4x4
Yamaha 2400SEi gen


---
Posted By: mosseater on 03/22/09 08:06pm


Aaaaaaaaaaaaaaarrrrrrrgggggghh!!!!

AAAAAAAAAAAAAAAAAAAAAAAAAAAAAAAAAAAAAAAAHHHHHHHHHHHHHH!!!!!!!!!!!!!
MAKE IT STOP! MAKE IT STOP!!!!!!!!!!!!
Phew! That felt better.

Know your numbers. Simple answer is not only yes, but heck yes. If your budgit requires it and it makes sense and you`re within the capabilities of the truck, there is no reason why a "1/2 ton" truck won`t pull a very nice trailer with relative ease. The bigger is better philosophy isn`t correct in, and of, itself. If you want to pull it like it isn`t back there and can afford the truck and don`t care if the ride as your daily driver is rough, by all means, get more truck. If a dash of common sense creeps into your thinking a 1/2 ton will work great. Just KNOW YOUR NUMBERS!

Just to bore you all again with mine, truck is 300hp, 8200 GVWR and runs about 7800 loaded to camp, loaded trailer is 33 1/2' and 7800-8000 lb loaded, tongue is 1050+/-, mpg is 8.7 around PA hills at sealevel, never scary, rides nice, accelerates acceptably, stops fine, stable in the wind, only a hint of push with passing rigs, and able to leap tall buildings in a single grunt.

We should make this subject a sticky `cause we sure talk it to death. Almost worse than that Ford or Chevy thing. Thank goodness we solved that (Ford!).


---
"It`s not important that you know all the answers, it`s only important to know where to get all the answers" Arone Kleamyck
"...An unarmed man can only flee from evil, and evil is not overcome by fleeing from it." Col. Jeff Cooper
Sunset Creek 298 BH

---
Posted By: moorer2 on 03/22/09 08:11pm


I tow a Wildwood 27 RB (no slides). It weighs 4890 lbs dry. I tow it with a 06' Chevy 1500 Z71. I pulled it to Yellowstone last year. It was like pulling a popup until I got to the Bighorn mts in Wyoming. It pulled it through some pretty steep grades (some 7%) but it really didn't want to. I recommend that you find the TT you want and make sure that you buy a little more truck than you think you need.


---
Posted By: SteveRankin on 03/22/09 08:23pm


Sure, a properly equipped 1/2-ton truck can tow a travel trailer. It just needs to be within the weight limits of the truck, although we believe in not exceeding 80% of the tow vehicle rating without a premium hitch. Additionally, since TT's have sway issues that 5vers are immune to, the length of the TT is much more important than it was with your 5ver. DW's F150 Crewcab has a 139" wheel base which when you divide the WB by 5 it works out to a 27-28' TT.

If you're thinking about a new truck, then something around 8,000# and 27' long would be a nice combination. If you're looking at trucks about 5 years old or older, then scale the weight back to around 6-7,000#. Or if the WB is shorter, you'll need to cut back on the length.

Finally, if you're inclined to go longer rather than shorter, or if you'd like to have stability approaching your 5ver, then I highly recommend you use a premium hitch (Hensley, ProPride, or PullRite).


---
Steve & C. J.
Gracie Rough Collie
Bo'sun Bichon Frise
Marli Lab



2011 Fox Mountain 245RKS





1998 Bigfoot 25C9.6B



2010 Dodge Ram Laramie 3500 4X4, Cummins 6.7, Crewcab SRW LB
TrailerSaver BD3 & MOR/Ryde

Our Arctic by RV trip

Our Beaver motorhome Technical page

---
Posted By: wrighta on 03/22/09 08:24pm


I sure think the 1/2 tons of today can pull. I pull a 07 Jay Flight 31 BHS with a 07 Silverado cc 4X4 with Vortec Max trailering pkg. My truck is rated for 10500 lbs. My tt is 6830 dry, 9000 gvwr. 32.5' long tt. No problems.


---
Posted By: Retired Phone Man on 03/22/09 08:45pm


I have two Tundra's in my driveway. One is a 2001 v6 and the other is 2007 5.7 V8 with tow package. The 2001 is rated at 4700 lbs and the 2007 at 10800 lbs tow ratings. My TT is about 4300lbs maxed out. I would not like to tow in the mountains with the 2001 but the 2007 is a dream, and if I every move up with my TT I have some room to grow. So as others have said, there are a lot of TT a 1/2 ton can handle, you just have to do a little research and match them up.


---
2007 Toyota Tundra SR5 Double Cab with 5.7L V8 and Tow Package.
2007 Gulf Stream Ameri-Lite 21MB
Peaches - Lhasa Apso/Mut Mix


---
Posted By: dcairns on 03/22/09 09:04pm


No, you need a proper truck in order to pull even the smallest of trailers.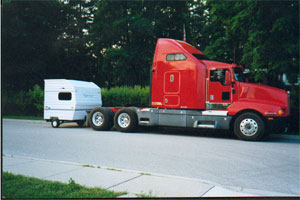 ---
---
Posted By: surveyorjp on 03/22/09 09:12pm


As others have already said, it depends greatly on the truck and how it is equipped. My 1/2 ton 95 Ram 1500 has a GVWR of 12,500 lbs, and with my TT below and truck loaded for camping, my truck and trailer tip the scales right at 12,500 lbs. It is a 30 foot ultralight with a GVW right around 6400 lbs.

Some 1/2 ton (150/1500)trucks now have much greater GVWR than 1/2 tons from 10 years ago. It all depends on how the truck is equipped.


---
2012 Dodge Grand Caravan. Popup shopping


---
Posted By: pacificnw on 03/22/09 09:22pm


A travel trailer with a half ton? I think you just described the most popular combo of TT and TV in North America... they are all over the place.

But heck, if you talk to SOME people, there are half tons out there that can haul your 37 foot 5er... "like it wasn't even back there"

So, define your specs a little bit and the folks on here can answer just about any question you can ask. Good Luck.


---
Posted By: ronj60 on 03/22/09 10:10pm


Lots of good advice here.
Look at my rig, it tows well, very stable, no passing 3/4 tons for me on steep hills though....but I'm in no hurry.
Good luck.


---
2007 Ford F-150/3.73 ratio/5.4L Triton
2008 Fleetwood Prowler 2702BS
Equal-i-zer Anti-Sway WD Hitch
Prodigy Brake Controller
Firestone Ride Rite Air Bags
Barker 3000 Tongue Jack

---
Posted By: Dixonmatco on 03/22/09 10:36pm


Mine does just fine. Well over 20,000 miles so far towing current TT at altitudes from below sea level (Death Vally) to over 10,500 ft.


---
2000 Chevy Silverado 1500
2005 Komfort Trailblazer T23S
Honda EU2000I

---
Posted By: Sportsman2505qss on 03/23/09 04:00am


We have towed our Trailer for 8 years with our F-150


---
2002 KZ Sportsmen 2505qss bought in 2001 Sold 1999F-150
Itasca Spirit 2014
Manatee Hammock

---
Posted By: Bucky Badger on 03/23/09 06:33am


Of course a 1/2 ton can pull a TT. Just be sure you get the right one for the truck. Lots of us do it. I pull a 26-27footer


---
2010 F150 5.4, 3.55, 4x4, Equli-z-er Hitch
2007 Forest River Salem 27RB LE
and
2009 Nomad 3980


---
Posted By: mikew63 on 03/23/09 06:40am


We tow our 26 ft Starcraft with a 2008 Nissan Titan and it's 6,200 weight des not slow us down much when in tow mode.
Tow capacity is 9,800 with tow options and 4wd.


---
Posted By: BUFFALODAN on 03/23/09 09:24am


I suggest find a floor plan that suits you first. How many people will be in the TT? You? You and a spouse? Kids/grandkids/friends? Once you find a floor plan see what the specs are then see if the half ton truck you want will pull it. Many, many people tow with half ton rigs. Most of todays half ton pickups can tow between 7000 and 10000 pounds when properly equipped. BUT, with a half ton truck you have to watch payload numbers though, and a heavy tongue weight on a TT will really eat into a half ton's max cargo capacity. So you might end up within the COMBINED weight rating (truck + TT) but over the truck's Gross Weight max (truck + people+ cargo + tongue weight).


---
2006 KZ Frontier 2505
2006 GMC Yukon XL Denali AWD
2014 Chevy Silverado Double Cab 4WD
1 DW
3DD's
---
Posted By: mike77leprechaun on 03/24/09 12:04am


martipr wrote:
You can buy a 1/2 ton that will pull a 29" 7000 lb trailer all day. I know, I have one( see my sig). On the other hand you can buy a 1/2 ton that would struggle with a 4000 lb 19' trailer. It all depends on the truck.



in all fairness your truck is on a 3/4 ton chassis
and I want one
---
Current Rig: 2015 Springdale 311RE Towed with a 2015 Ram 1500 Outdoorsman Hemi.

"You should really invest in a Diesel 1 ton to properly tow that popup"


---
Posted By: ncpotter on 03/25/09 05:35am


Hello Lawrence, I pull a 33ft Rockwood Ultra Lite with my 2005 F150.I know the camper is back there but it pulls it with no problem.If I were to buy another truck though I would definitely upgrade to a F250 or an F350.I live just south of Raleigh and we pull it to Myrtle Beach every summer a couple of times a year.
Kenneth


---
2005 Ford F-150 Supercrew 4x4
2007 Rockwood 8315ss
Primus brake controller
Equalizer w/d hitch


---
Posted By: mhawk4 on 03/25/09 07:35am


Lawrence, I am a chevy suburban fan, i tow a 08 jayco 27BH little less than 6000# ready to camp (29" long from tongue to rear bumper)w/ my 1999 5.7 burban. yes i did some modifications - i changed my 3.42gr to a 3.73, w/d is a reese with hp strait line dual cam, i use a hypertech downloader for hp and torque, and my rear shocks are monroe spring loaded. And the most important change is my driving, i stay between 50 and 65mph depending on weather and/or road conditions.
The family is on a budget but never cut back on safety.

if i can get my sig. to work i'll show my set up

good luck!


---
1997 Ford F350 7.3L DRW
2016 Keystone Hideout 31RBDS
Blue Ox sway pro, Stromberg Carlson A-frame cargo tray CC-255

Luis,Shelia,Noah,Gabriel
All about the family!!">


---
Posted By: lawrence617 on 05/24/09 08:35am


Ok, I did it, bought a 1998 Dodge 1500 Ram 5.2L Longbed 4x4 extended cab and a 2009 Jayco Flight 26BH. Now I want to add horsepower to the Dodge, any suggestions? Cold air intake filter kit? Cat-back exhaust system? Chip?


---
Posted By: propane1320 on 05/24/09 08:51am


Nope, you can't pull a TT with a half ton...


People have been RVing for a long time, and it wasn't always in 500 horse one ton diesels, thats for sure!
Do your homework, play it safe, and drive it with respect, but get out there and enjoy the summer!!!


---
2003 Winnebago Journey 32T Diesel with propane injection ">
2006 Suzuki XL-7 toad

---
Posted By: propane1320 on 05/24/09 08:56am


lawrence617 wrote:
Ok, I did it, bought a 1998 Dodge 1500 Ram 5.2L Longbed 4x4 extended cab and a 2009 Jayco Flight 26BH. Now I want to add horsepower to the Dodge, any suggestions? Cold air intake filter kit? Cat-back exhaust system? Chip?



I would have a look at the gears first, if they are 3.73 or better (higher) you could look at a CAI or a chip, but gears are the biggest and most noticeable mod you can make to a TV...


---
Posted By: tomkaren13 on 05/24/09 01:08pm


Have 2005 27' Flagstaff Ultra light TT and 2002 GMC Sierra 1500.Ours works nicely. There are alot of options out there.


---
Posted By: Psyex on 05/24/09 02:50pm


My 2001 Dodge Dakota Pulls my 27' 2007 Springdale great and is rated to 6100lbs. I have towed a lot of regular trailers and I would caution you on getting a trailer too close to the top of your tow weight as it may toss your truck around quite a bit a high speed or under windy conditions. Other then that I say go for it.


---
2007 Keystone Springdale 256RLL
2001 Dodge Dakota V8 5.9L HD Suspension AWD and 4X4
1 Wife, 3 Kids, and Me!!!



---
Posted By: Lar114 on 05/24/09 05:32pm


I see you bought a Dodge Ram 1500 with a 5.2 liter engine. That could be a big mistake. If that TT is over 7000 lbs, your not going to like how it pulls on the hills or mountains. I know because I had one. My TT when I last had it wieghed was 7560 lbs and that truck stuggled to pull it on the flats. I then bought another Dodge gasser with a 5.9 liter engine and it pulled much better. The only thing I didn't like about a 1/2 ton was the TT pushed it around quite a bit. Moved up to a 3/4 ton in my signature and the ride is a lot better. I'm not a member of the wieght police, just telling you about my experience with 1/2 ton Dodges. You've owned a 3/4 ton truck so your gonna notice the difference. I mean you might like it, depends on what your new TT wieghs, but I know a camper over 7500 lbs is going to work that little 5.2 to death. Good luck.


---
Larry and Wife Debbie
2016 Ford F250 Super Duty 6.2 Liter 3:73 Axle.
2004 Dutchmen Sport 26L 7546 lbs. Loaded.


---
Posted By: curveballer98 on 05/25/09 11:47am


I have a 1/2 ton, 2001 Dodge Ram 1500 quad cab Sport, with a 5.9L V8 for my tow vehicle. my camper is a 2008 Keystone Springdale 267 BHSSR, with has a dry weight of 6300 some odd pounds and a tongue weight of 780 dry. i know i am pushing the limits with the weights by a hair, but i have the proper weight dist. system and so on, and the truck itself handles like a charm when towing. sure she grunts a little bit tugging up a big hill, but in our area, where we camp, there isn't much for hills for us to worry about. not mountainous terrain by any means. would i like a little bigger truck, sure, who wouldn't. but am i will to go out and spend the money on it right now, nope. not when my truck does the job just fine. maybe when i come across the time when i have some major issue related to towing, i'll look into a ram 2500, but right now, my truck fits my lifestyle and my family pretty well. i guarantee you're going to get a bunch of people on here telling you that anything less than a 3/4 ton is dangerous, or not enough truck, but i have no issues with my 1/2 ton, and i see people towing more with less also not having any troubles. i've seen people pulling pop-ups with 3/4 tons as well. just make sure your dealer sets you up with the proper system and ensures you're looking at trailers that your truck can handle.


---
Posted By: martipr on 03/23/09 11:40pm


You can buy a 1/2 ton that will pull a 29" 7000 lb trailer all day. I know, I have one( see my sig). On the other hand you can buy a 1/2 ton that would struggle with a 4000 lb 19' trailer. It all depends on the truck.


---
Old Navy Chief (AOC) Retired Aircraft Mechanic/Inspector
2007 29' 27FBV Trail Bay V Series
2015 Dodge Ram 2500 Crew Cab 6.7 Cummins Diesel
Reese Strait-Line Dual Cam Hitch

---