Topic: 1994 Damon Challenger 30' w/19K miles. What is it worth?
---
Posted By: Sweathog62 on 07/01/10 12:43pm


It has the 454 with fuel injection. Stored inside a building. Pics look great with the plastic being removed from the floor in the last 3 years. 1 owner that is a family friend. Has the original tires that need replaced, and the dash a/c compressor seal replaced. The Generator hours are unknown at this time, but it works. All for $12,500 asking price.

Thoughts?

What to look for?

I'd like to tow a boat or toad. What the max weight? 4,500 pounds?


---
Posted By: SteveLevin on 07/01/10 01:50pm


With something this old, it's all about condition. My biggest concern is that it has sat for quite a while... meaning seals dry out, etc. If everything (a/c, fridge) are original, well, they might need replacing in the near future.

You didn't mention if it has leveling jacks or any other upgrades.

My personal feeling about the price is that even if everything is perfect and wonderful the price is close to being a bit high since your net cost (once you put tires on it and deal with the dash a/c) is going to hit $15,000 -- assuming that everything else is in spiffy condition.

To give you an idea on pricing (and it always varies) I paid the same kind of money they are asking for my 1991 a couple of years ago, but it was in beautiful shape and had upgrades such as:

Banks for the 460
HWH levelers
iPD anti-roll bars
airbags
fridge and a/c replaced in the previous few years
generator overhauled in the previous few years
year old tires on the back and 4 year old tires on the front
2 year old batteries (chassis and house)

in short, in a condition where I've had no major maintenance issues in two years and 15,000+ miles.

Steve


---
Posted By: haydoracin on 07/01/10 05:32pm


Sounds like a good deal to me. Problem is the towing capacity. Doubt that a 1994 P30 motorhome has more than 3500 pound hitch


---
Hayden & Jan
1994 Southwind 33L P-Chassis 454
2006 Chevrolet HHR
OTY (Mini Dachsund)


---
Posted By: topflite51 on 07/01/10 06:24pm


Since you did not list the length will assume it has a frame extension, as with most p chassis tow weight is probably 3500. Along with tires I would suspect shocks, possibly sway bar bushings. Would not be surprised if it needs batteries and a lot of minor stuff to put it into condition to travel. I would reduce price accordingly.


---
">

David


Just rolling along enjoying life
w/F53 Southwind towing a 87 Samurai or 01 Grand Vitara looking to fish


Simply Despicable

">


Any errors are a result of CRS.

">


---
Posted By: Sweathog62 on 07/01/10 06:26pm


All very good comments. Since I drive a 1994 Toyota i think everything will last as long as it. That is not always the case.


---
Posted By: dboliek1112 on 07/01/10 06:29pm


We purchased a well used 94 Challenger 10 months ago for about $2000 less than your price and 40,000 more miles than the one you're looking at. As Steve points out look at more than the pictures and that the plastic has just come off the floor. Check everything - twice. Plug it into shore power. Turn on all lights and electrical equipment. Unplug shore power and check 12 volt lighting. Check refrigerator, microwave, stove top and oven. Fill the gray and black water tanks to make sure they don't leak. Drain them properly to make sure the drain controls work. Have a trusted mechanic check the engine. Even then you'll likely not find all the problems. We've put about $800 in repairs in ours and $2500 in additions... like towing package. I can tell you it is a neat coach and we really enjoy ours. If you're satisfied, I'd try bargaining... but the price isn't out of line.
The towing capacity of the hitch is 3500 pounds. It's posted on the hitch. We had to get Damon to create a duplicate weight sticker, which you will need to help determine loads. I later found the original by standing on the ground with the driver's side door open, looking up under the dash sort of near the steering column. Hardest thing to read I've ever seen.
Good luck and I hope it works for you. You will enjoy it.

Dave


---
"The only thing more expensive than education is ignorance." Benjamin Franklin

Dave and Missy Boliek
Roxeanne, Bell and MaggieMoo
2000 Winnebago Chieftain
2007 Saturn Aura

---
Posted By: Sweathog62 on 07/01/10 07:25pm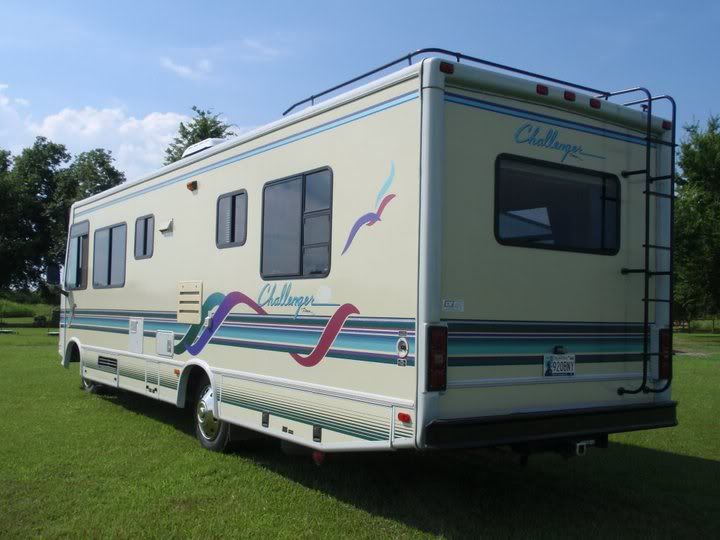 ---
Posted By: 2cyber71 on 07/01/10 06:32pm


Pay as little as possible....you will probably need to replace some expensive items once you use it and find out what needs to be done.

for example a relay for my HWH jacks on my 3 yr old MH cost about $400 to replace....the part was only $90....thankfully I have a extended warranty.


---
---
Posted By: NHgrizzly on 07/01/10 06:41pm


That sounds like a good price. As others have stated, you will need tires and some maintenance. But certainly a good price to get into a Class A. I would rather a RV that has been stored inside, than one that has sat outside or has been abused for the last 19 years.
Does the AC need seals or simply a re-charge.
Good luck and enjoy.


---
Steve
1996 Damon Challenger 313
2011 Jeep Wrangler Sahara
2006 Cadillac STS-4


---
Posted By: Sweathog62 on 07/01/10 07:08pm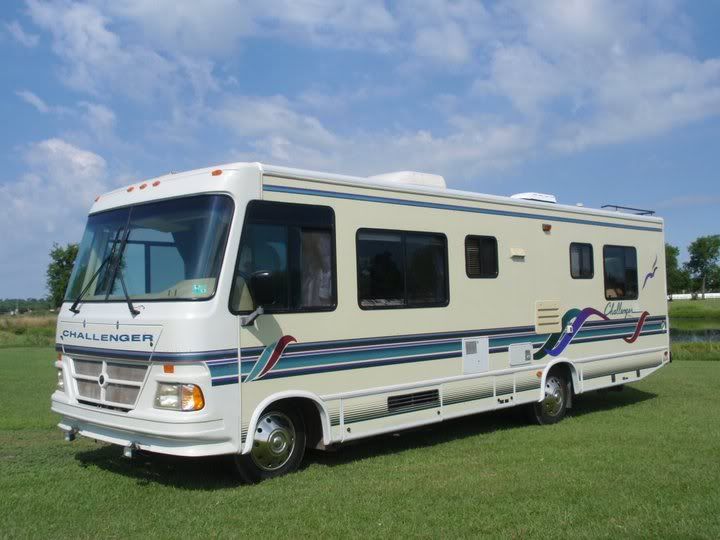 ---
Posted By: Sweathog62 on 07/01/10 07:10pm


It needs a seal replaced in the a/c compressor. The owner retired in 1995. Bought the unit in 1995. His wife just recently passed and I believe he is ready to move the rv out. Sounds like the usage has been none over the last 5 years during her battle with cancer. As everyone pointed out the lack of use is likely the big issue.

* This post was edited 07/01/10 07:39pm by Sweathog62 *


---
Posted By: Sweathog62 on 07/01/10 07:19pm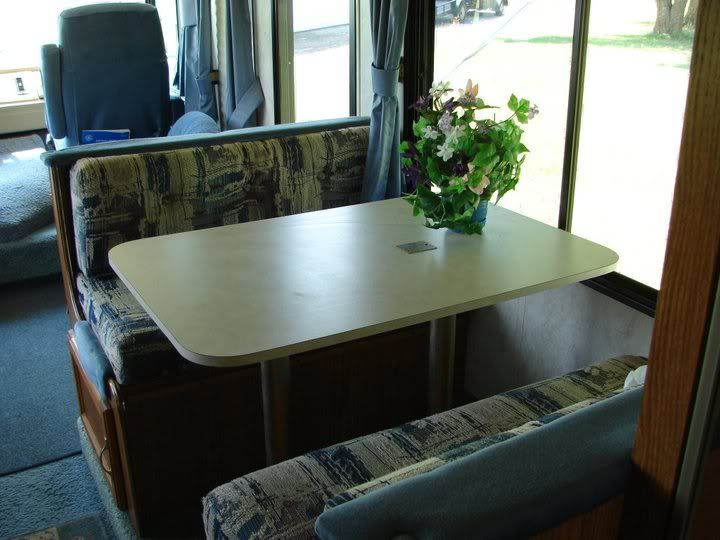 ---
Posted By: Sweathog62 on 07/01/10 07:29pm


So, what do you guy's think of the picture? I am afraid that the non use could be a problem. My brother in law left my old 1996 tt(sold it to him 5 years ago) ouside for 2 years and then pulled it to Branson only to change out all the bearings in Springfield with 3 little kids and a grumpy wife watching. Yikes.

I wonder if the hitch can support a pretty good pull. I am wondering what kind of file exist on the unit? As mentioned above it is all stock. NADA shows retail at about 8K with about 2K being a bump up for low miles.

NADA also showed a MTB model?? I have no clue what that means, but it had a higher price. He said he camped with a guy who had the same unit and said this one had the improved head gasket and fuel injected throttle body. Any other specs I should be looking for. What kind of generator is on board?? He said it was not the onan, but he could not remember what it was.


---
Posted By: blackf3504dr on 07/02/10 04:16am


If you could get it for what NADA says it's worth (or less) it would be a good deal. Have the mechanicals checked out by a competent mechanic and change all fluids, hoses, belts and tires . It looks to be well cared for which puts it ahead of the game . Just keep in mind it will take a couple thousand $$ to get it back on the road....


---
Mom , Dad , Scooter & K.C ( killer cat )
'96 F350 4dr. Dually, 7.3 5sp.
'92 Holiday Rambler 34'
REAL TRUCKS DON'T HAVE SPARKPLUGS !


---
Posted By: gunner54 on 07/02/10 09:41pm


I was in the same situation this past spring. My wife and I decided to try rv'ing, and were looking for a good used motorhome and settled on a 33 ft 1994 Damon Challenger with about 29k on it.
We love it. The previous owner had purchased it a year prior from an older gentleman who didn't use it much - only had 19k on it.
The big ticket items were replaced before we got it - tires, brakes, batteries, and he replaced all the carpet with clickfloor.
We have the Ford version which is heavier built than the Chev (front and rear springs, as well as frame are heavier)
Ford is 10 bolt wheel, and Chev is 5. The Ford has a 8000 lb towing capacity as compared to 3500 for Chev. (I have the 1994 Ford F-Super Duty Class A Motorhome Chassis literature)
Damons are a well-built motorhome - easy to drive. I would suggest taking it to a reputable motorhome dealer and have it checked over. If tires are more than 5 years old, they should be replaced.
I have a friend that has a Winnebego with 454 motor and he gets about 10 to 12 miles per gallon and has travelled extensively with it and it has been reliable.
I always add Lucas oil treatment to the motors of my vehicles.
As far as price, Camping World had a 1993 33ft Damon (without mileage listed) for I think 29 thousand and it was reduced to 24 thousand - and I didn't pay close to that


---
Posted By: calvinator on 07/02/10 10:12pm


I revived an older motorhome.... It was a project, but the outcome is great.

The pics look nice -- at least this MH isn't trashed and beat up. You'll need $3500 cash for new tires, alignment, fluids, brakes, shocks, belts, and a good tune up. Then your drivetrain will be ready to work. Just plan on doing it all when you buy the rig so those items are not a question mark.

As far as the RV parts, the gen and refrig are expensive parts fixes are $350simple -$600medium-$1500-$2000 replacement. Roof top A/Cs and furnaces are $800. Batteries, water tanks, pumps, those are couple hundred bucks. Anyway, see if all that stuff works properly.

$12,500 is an OK price. $9000 is better. $8000 is a steal. Use that $3500 service as a bargaining chip.

Looks like the previous posts indicate you have a 3500lbs tow capacity. Lots of toads fit that profile.


---
1992 Seven Seas by Cobra
Overhauled & Customized.
Vacation rig for DW, DS(11),DS(10),DS(7)and a mighty Maltese.
Fav mod=Hott Rodd elec water heater - no propane!.
Jeep Cherokee toad w/Excali-bar and ReadyBrake
2011 nights camped=1, plan=20 (broken leg)">

---
Posted By: Sweathog62 on 07/02/10 10:34pm


Two great responses. I plan to go see the unit tomorrow. My wife's uncle looked at it for us and said it was real clean, but he had concerns that if the owner will not negotiate on his price, he may just give it to his kids. I'll bet the kids have no clue what that would involve. Anyway, I agree with the 8K steal, and 9K as kinda of o.k.
I thought it would make a great project unit to see if the wife and i even like the whole motor home concept. Yes, like most of you it is something you did not know you needed until you have it.. Well, I just paid off the '04 Burb and the '05 tt and wanted to see what this was all about before i sink 100K into some unit and still get 6.5mpg. My time off is limited so we only pull a 23ft which gives us room to still camp in the National Parks.
Thanks for your comments.
Brad


---
Posted By: 427435 on 07/02/10 10:36pm


Check the engine, transmission, and diff for leaks. Then take if for at least a 50 mile drive. Then recheck for leaks. Ask the owner to let you park it your driveway (or, better, stay in a local campground overnight). Check out all the systems in the process.

I'm in the process of replacing my MH's kitchen and bathroom faucets as seals have dried out sitting over winter and due to general age.

If things check out, it's not a bad deal.


---
Mark

2000 Itasca Suncruiser 35U on a Ford chassis, 80,000 miles
2003 Ford Explorer toad with Ready Brake supplemental brakes,
Ready Brute tow bar, and Demco base plate.

---
Posted By: John&Joey on 07/03/10 02:05am


I would pass on it just because it lacks a full basement. Don't know what you're planning on doing with it, but for me a full basement is a must have item.

As far as price, I would think low NADA without the mileage allowance would be a good price for you. Remember that to sell a class A is not too easy, and I doubt that buyers are knocking down his door.

Don't forget to check out the roof. A very costly item to have replaced. I'm sure all the joints need to be resealed, and hopefully that will be the extent of it.


---
Posted By: bsinmich on 07/03/10 06:12am


I think the '96 year was the first for MPFI and the Vortec. Prior to that I think they were all TBI (throttle body) with only one injector for the engine. I think you will find 3500# as the max tow limit.


---
1975 GMC Eleganza II & 1995 Roadtrek Versatile. Both old enough to vote and drink (gas)


---