BenK wrote:
I personally know what a 'rating' is, but sadly, too many have no idea nor concept
I also know what a 'warranty' is and how it applies to the product to which it
covers.
Many have no concept that these two (rating and warranty) are interrelated.
Most in engineering and design do know this, as that is part of their
job and really a goal set by their management and/or Product Team. A
few who have experience with Product Design Teams also know, or those
who deal with life and limb in reference to them (say an electrician
who deals with ratings all day)....again, not an absolute, as I
personally know of several electricians who have no concept of what
a rating is...they do know that the circuit breaker will trip around
their rating, but that is the extent of it for them
One constant thread on this general topic is that GCWR is not a 'real' rating.
Or that it is NOT documented. Or that it will NOT affect the warranty.
Astounding to me that within the vary acronym has 'rating' in it, yet
many say it's not a rating.
Again, 'they' have gone past the rating, so think meaningless, but they have
no concept that they are into the safety margin portion. Even trying
to make an analogy to 'working' vs 'breaking' load of, say a rope or
chain has them deny or not understand what that 'rating' metric is.
They advise folks that 'they are good for it', as they 'have done it
for decades with no problems'
I do not go around looking for these ratings, but have them in one of my personal
vehicles, my 2000 Odyssey. My TV (1996 Suburban) does NOT have this listed in
anything that I have come across.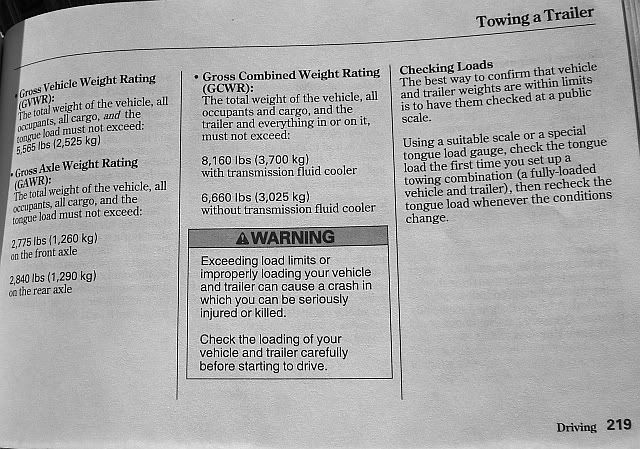 So it is a 'rating' for my 2000 Odyssey.
As are the MTWR for my Odyssey and a sample from a Pilot, which is
derived from an Odyssey (and on that, many have no clue that a Pilot is a CUV
or that it is basically a Odyssey with different sheetmetal)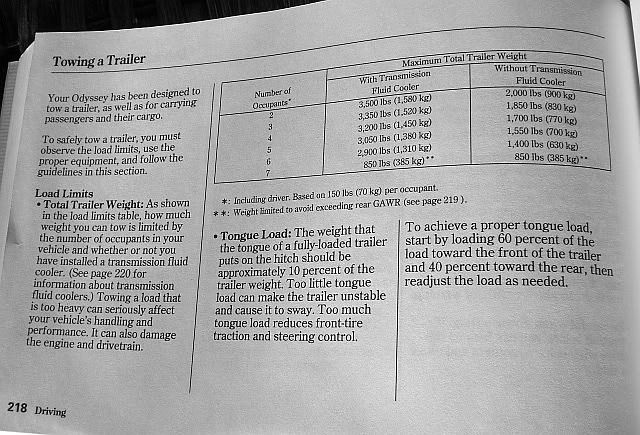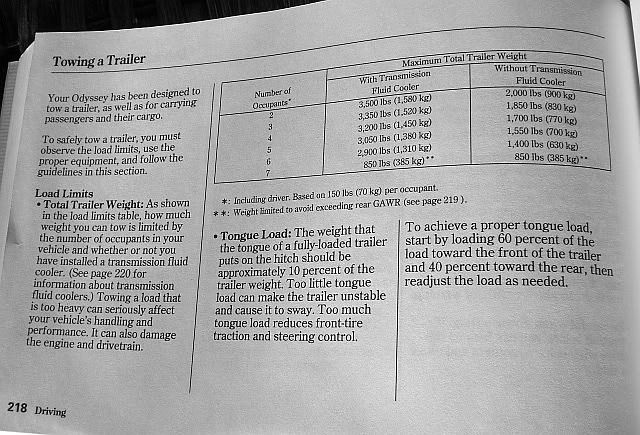 which is not an 'absolute' number, but variable by what the TV is loaded with
(actually what it weighs in 'that' condition)
As are the GVWR, GAWR (front and rear)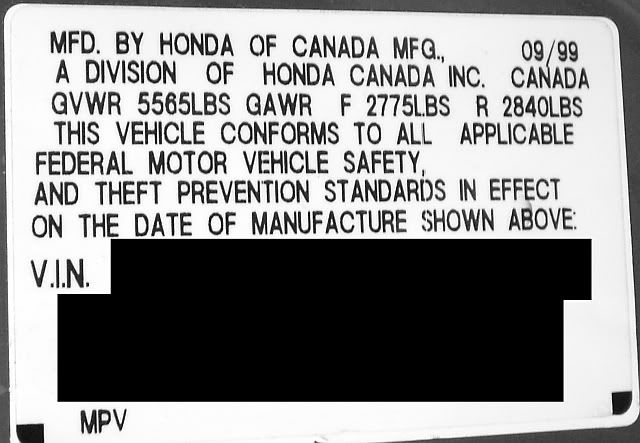 I've posted this and similar 'specifications' and most ignore them, take them
out of context (absolutism) or say bogus.
I'm basically here to help those who ask me to comment on a post. Send many, many
here from my other forums, so they then come back to ask me to comment, etc.
I no longer try to answer a lot of posts because of the types who only want
to hear what they want (confirmation of their poor decision and that they really
already know the answer and just want a 'feel good confirmation)
Notice that these are all 'ratings' and if a person has no idea what a 'rating'
is, how can they understand how this whole process is or even means?