Topic: Palomino 8801
---
Posted By: sacc on 06/09/11 04:12pm


Can anyone tell me if a palomino 8801 will fit on a 2011 chevy 3500drw 8ft. box,looking to by truck in the next few days'Thanks Bob


---
Posted By: Eugarps on 06/09/11 05:15pm


According to the Palomino Options page for the M-8801, you can by a Short Bed Package option. So, I'd guess in standard dress it would be a long bed camper. The floor length in 9'-0"

Help this helps,

Bill


---
1978 27' Southwind MH - Gone
1982 19' Terry Taurus TT - Gone
1990 24' Prowler TT - Gone
TC - Still in the Hunt

---
Posted By: Mike and Terry Ann on 06/10/11 09:25am


sacc, I'm in the same boat. I had my 06 8801 on an 06 f-250 supercab shortbed and it worked great,but I don't have the truck anymore and was looking into diesel. Was wondering about if the GMC shortbed was to short . If I go with the long bed will it be too long ? Hoping to buy a truck within a month but still deciding between gas&diesel and short and long bed. Gotta decide before the summer is over. Mike


---
Posted By: MAV 8801 on 06/10/11 10:24am


Should fit with no problem... 8801 is made for short or long beds.. At the Mid Atlantic Truck Rally the Palomino Guys had their 8801 on a long bed 2500. You will not be able to use the short bed storage box area and of course need the swing out jacks for the front. Why are you retiring the 2004 Short bed?


---
2011 Palomino Maverick 8801, 2005 Chevy 2500HD Crew Duramax/Allison, Timbrens, Bilsteins, Michelin LTX M/S2, Hypertech programer & Honda Eu2000

---
Posted By: sacc on 06/10/11 03:57pm


I,m looking at a 3500 8ft dually,the camper look,s to big on my short box chevy 2500hd,i't rocks front to back,does not handle in the wind think it's time for a new truck.
Trouble with the 3500 dually is the fender's 96in wide do not fit between the rear wings 92in.wide inside. I would have to leave camper back about 6-8in.from front of box,rear tiedown is right above the centre of rear fender's how do you use your tiedowns.
Rethinking mybe a 3500 SRW,Thanks Guys


---
Posted By: meandmydeere on 06/12/11 09:31am


The 8801 will fit on a dually, however, you will need the offset front jack option for a dually. I use the Happy Jac tie downs. They mount on the front of the box midway down and a button on the rear bumper.


---
Mark J Scholten, Sparta, Mi and Mission, Tx.
Antique tractor collector, Extra class amateur radio op AB8MS
Freightliner s/a semi tractor, 48' spread axel drop deck, '03 27 foot Cougar 5th wheel,'08 Dodge Ram 2500 diesel 4x4, 2013 Palomino Maverick 2902


---
Posted By: Mike and Terry Ann on 06/12/11 12:37pm


What does maverick 8801 change or add in the short bed options?


---
Posted By: Sheriffdoug on 06/12/11 02:11pm


Hi,

Why not go for the Chev 2500HD SRW? Diesel?
With 18inch wheels, higher weight load tires.

This is my rig below.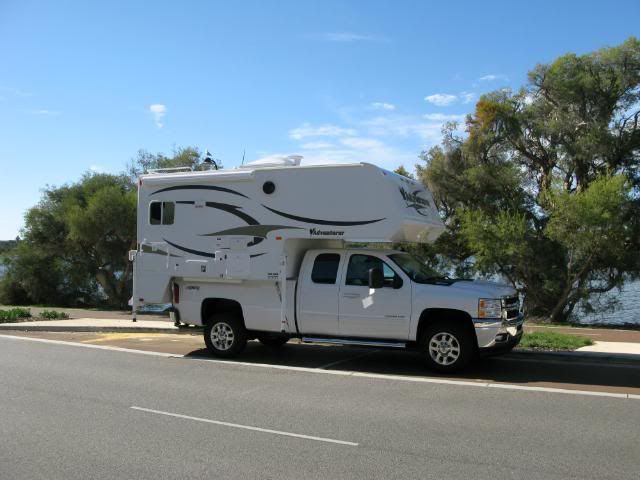 Good Luck!


---
2012 Ram 4x4 Crew Laramie LB 3500 HO Auto diesel
Eagle Cap 1160 Super Springs Big Wig Sway Bar Front Timbrens, Fastguns
RearCam SolarPnl Expdtion Shvel/Axe Kit
Thermopane Windows,, Dcted Heat & R/cycle aircon
Genset WoblStopprs

---