anaro

Mebane, NC


Senior Member


Joined: 01/16/2011

View Profile
---
rovobay wrote:
I am hoping we get a lot more posts on this thread, because I am in need of some design upgrades myself.... I don't want to be arrested by the fasion police!!! check this pattern out. we just bought our trailer in February because it was a great value and layout, exactly what we were looking at, but I am a drycamper/hunter and I don't see the couch working for me either.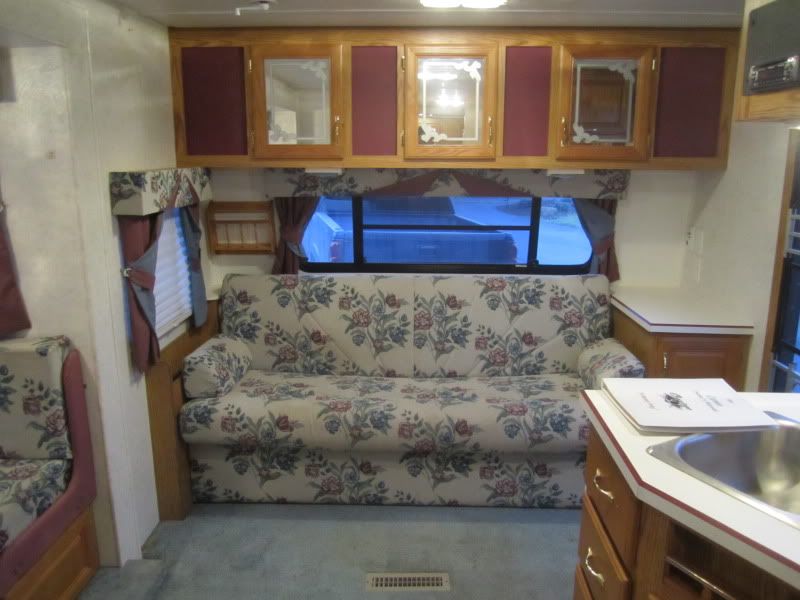 I would think you could do a slip cover for your couch. Just measure it and look for it. Lots of people make them.


I am ready to change to curtains in my TT also, we have 1 broken day night shade and the rest are getting troublesome.


---
2009 Ford F250 Lariat Crew Cab 6.4L diesel 4WD
2011 Crossroads Zinger ZT26BL
Reese Dual Cam



21 nights camped in 2013!




21 nights camped in 2012!




27 nights camped in 2011!



doxiluvr

Tucson-AZ


Senior Member


Joined: 11/03/2006

View Profile
Good Sam RV Club Member
---
Have you looked at those stretchy sofa covers. Most department/discount stores carry them. Just get something in a neutral solid color and when it gets dirty you can just dryclean or wash them and put it back on. Some have separate back and cushion covers.


---
2006 Keystone Sprinter 300fkms
2007 Silverado 2500 Duramax Diesel 6.6 - Allison 1000 6 spd. auto. tran.
1 high school sweetheart hubby - 1 mini-dachshund/Chihuahua - Abby
4 grown kids, 6 grandkids, 1 great-grandchild
1 2007 Yamaha v-Star 1300