Perrysburg Dodgeboy

Perrysburg, Ohio USA


Senior Member


Joined: 12/06/2003

View Profile
---
wjhemtp wrote:
I figured out how to put the flat screen in my RV where the old tube style tv was. I took the shelf board off on the right side then there was a stud there and I used two machine screws and just went threw the wall and secured the mount. Then I secured the shelf the same way except threw the wall on the other side. I bought some plastic hooks with double side tape and place them on the wall behind the 4 corners of the flat screen and will use elestic band to secure the flat screen while driving down the road so it doesn't do too much bouncing around. I did take pictures and they are on photobucket which i put the website to go in this message.
http://s1264.photobucket.com/albums/jj500/wjhemtp/#!cpZZ1QQtppZZ28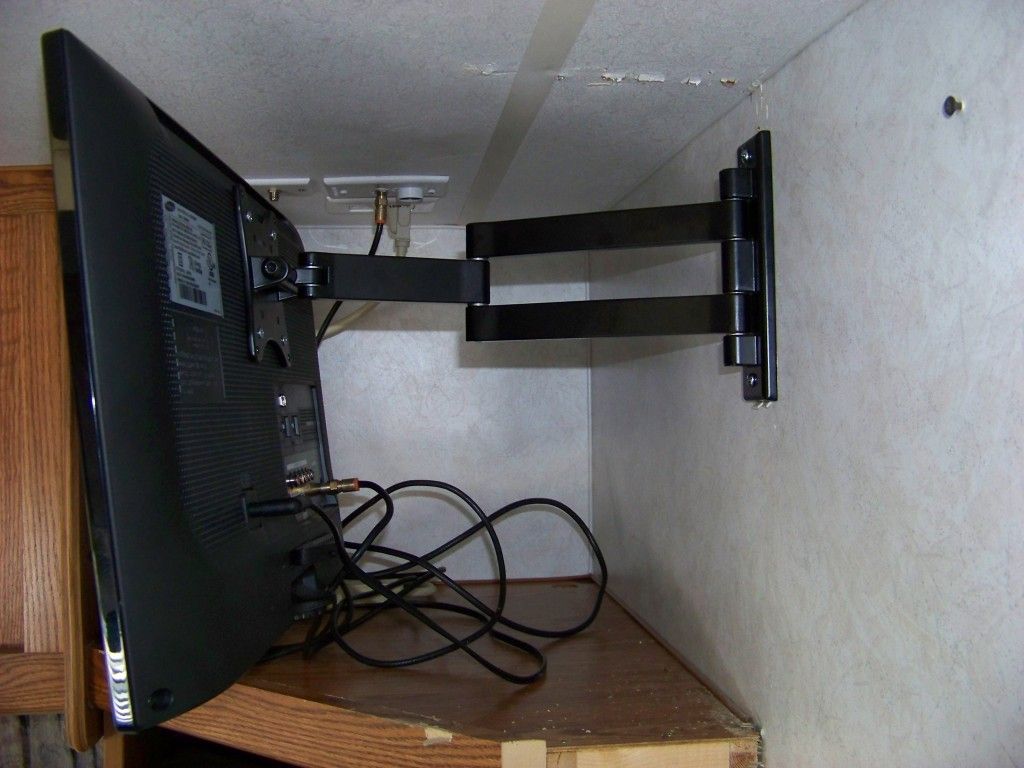 I hope you can see it and hopes this helps some one else who trying to do the same thing.

Thank



clicky link

* This post was edited 05/24/12 06:15pm by Perrysburg Dodgeboy *


---
Perrysburg Dodgeboy


2004 Dodge Ram 2500 Quad Cab SLT Cummins HO
2005 Keystone Cougar 304 BHS SOLD and looking.


lanerd

Ridgecrest, CA


Senior Member


Joined: 03/03/2003

View Profile
Good Sam RV Club Member
Offline

---
You can use just about any of the wall mounting types that will meet your requirements (weight of tv, maneuverability). The key is having sufficient wall strength that will hold both the mount and the tv. So obviously, you want to only go with the least amount of weight possible.

Some times you have to put a one by on both sides of the wall (if you can get to it) and then mount the tv mount to the 1x. If you have a solid wood (or particle board) cabinet that you can mount to will usually be a good choice. If you already have a cabinet that the old tv was mounted in, you might have to gut the inside and build supports to hold the new mount (as described above).

In my case, our bedroom tv (20") was an analog type and we wanted to go not only larger but with HD as well. The 20" was hard mounted with a 1/8" metal brace that was screwed directly to a wooden corner cabinet made especially for the tv. After removing the 20", I inspected the cabinet and made note of how it was attached to the two walls (corner). It looked like it was sufficiently strong enough to handle the extra weight. We purchased a 32" LED/LCD and it was only 12oz more than the old 20" LCD unit. However due the the overall size, I had to mount it on an articulating wall mount so that it would be moved out away from the wall for viewing. While traveling, we push it back into the corner as far as we can get it and then wrap one of those flat bundgy cords around it to keep it pressed up against the wall.

We haven't traveled yet and I'm still a little concern about it being too much for the corner cabinet. We will keep a close watch on it during our next trip.

THIS is the mount we used.

Hope this helps..

Ron


---
Ron & Sandie
2013 Tiffin Phaeton 42LH Cummins ILS 400hp
Toad: 2011 GMC Terrain SLT2
Tow Bar: Sterling AT
Toad Brakes: Unified U.S. Gear
TPMS: Pressure Pro
Member of: GS, FMCA, Allegro


RETIRED!! How sweet it is....