BenK wrote:
falconman wrote:
Just curious, has anyone ever seen or heard of a rim failure from too much pressure? What would it look like?
I used to work as a tire monkey working my way through college. Owner
was a great guy and taught me a ton on automotive & general stuff
An old guy came in one day with a leaky wheel.
I could NOT find the leak on the tire, even after dunking it in the
tire dunk tank. Only the tire was underwater
Boss came over after noticing no success by me.
He took one look at the tire and wheel to say the tire isn't leaking
but the wheel was
That old guy had a 'LT' class tire mounted on a 'P' class wheel.
The higher PSI fatigues the wheel rim to crack the rim at the transition
between the wheel and rim bead area.
It is a cantilevered loading on the wheel rim. For those who don't know
what a cantilevered beam load is...think of a tree trunk and one branch
or limb sticking out
That is a cantilevered beam load. Fastened only at one end and forces
or loading on the rest of that beam (branch or limb)
These images shows the rim edge to wheel itself and how it is cantilevered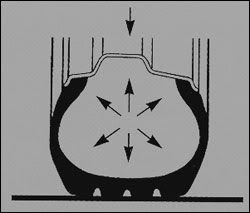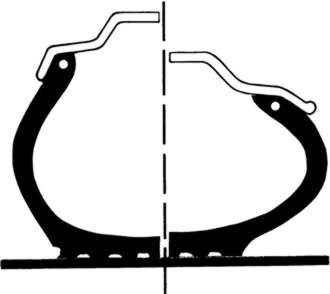 Can you now see where the tire bead pushes out against the wheel
rim as a cantilevered load/force? They crack right at that junction
The difference between my tree example is that with a wheel, the rim
is 360* whereas the tree is a point. Think of a tree limb that goes
completely around the tree
Boss then took a pair of pliers and snapped that rim edge off easily
Said whoever sold him that tire didn't know what they were doing and
if he (that customer) wanted to, my boss would write a letter stating
that so the customer would have a case against that other dealer
Old guy said out of town and that dealer out of business long ago (no
surprised after seeing or understanding what the heck what they did)