Topic: Fishing rod holders
---
Posted By: padec21 on 06/22/09 11:14am


A while back I saw a post from someone about a mod they did to mount fishing rods in the forward storeage area (little skinny pass through door) on their hybrid. They did this so they wouldnt be in the way of the tent poles and get crushed. I cant seem to find it and searching found nothing. Does anyone know about this or a similar idea of making a mount to hold fishing rods close to the top of the pass through storage area. Any ideas would be helpful.


---
2008 F350 6.4 4x4 CC LARIAT
2012 Starcraft Lexion 329bhu


---
Posted By: automap2002 on 06/22/09 03:38pm


I don't have a hybrid but do have a pass through storage area on my travel trailer, this is what I did. On the side where the tips are I used a one foot length of 2" PVC and connected it to the top of the storage area with two hole straps (you can get these at Home Depot in the electrical section) in then put another two hole strap on the other end for the reel end of the pole. I can fit four rods in the storage area up out of the way, one of the best mod's I have done.


---
Posted By: automap2002 on 06/22/09 04:37pm


Here are some pictures

---
Posted By: automap2002 on 06/22/09 04:41pm


Going to try this again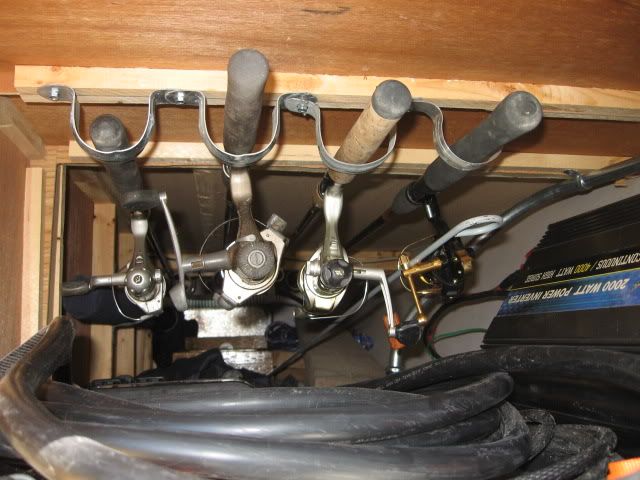 ---