Topic: Lance 1181 Slide Problem
---
Posted By: Chief 2 on 08/18/11 04:35am


The door end of the slide in my 1181 has always been very close to the rear window valance, but I always thought it was just because of the size of the valance. Well while extending the slide yesterday the door end of the slide has dropped down about a 1/2 inch and is now binding on the valance and also has started to pull the weatherstripping out of the slide opening. If I jack the slide up, all is fine. I can see the rollers on the interior side of the slide mechanisim, but not the rear.I am also getting noise from the track in the area of the motor. Does anyone know what the problem may be? I also noticed Lance did not install any type of support on that end of the slide, but there is a carpeted block on the closet end. HELP!!!


---
2005 Lance 1181 Loaded
2005 Chevy 3500 4X4 Duramax, Edge Attitude Tuner, 5" Exhaust, Airaid, Ranchos, Air Bags, Hellwig Big Wig
2007 38RL3 Mobile Suite
2001 Bass Tracker 185


---
Posted By: bobndot on 08/18/11 05:42am


slide repairs can be very involved. I stay away from them, seen too many problems . Here is what info. i have on them .
If you ever have adjusted the jacks up/down with the slide extended or partially extended you could do damage to the slide or crack the outer skin of the tc . This happens in the rear corners of campers. OR , it could be out of alignment. http://www.rv.net/forum/index.cfm/fuseac........n/thread/tid/23684715/srt/pa/pging/1.cfm

http://rvtipoftheday.com/general-tips/rv-slide-out-operation-and-troubleshooting


---
Posted By: fishkiller on 08/18/11 09:21am


My Slide on my 1181 doesnt work right now either. I have not had the time to see whats up. I can hear the relay in cabinet click but..... I think it is an alignment problem???? Looks straight but...... How do we troubleshoot? Tight fit under there?


Fish


---
Posted By: Chief 2 on 08/19/11 04:44am


bobndot,
Thanks for the links. I sure hope I don't have those problems.
Chief 2


---
Posted By: bobndot on 08/19/11 07:12am


Chief 2 , i hope you don't either .
I sent you those pics so you have an idea of what's inside and the underneath looks like and how involved it can be. I have seen people, like myself, get into a repair and find out they really do not have the skills to complete it .
Dealing with slides,you have to be careful starting the project, you can get caught with the slide 'out' and no way to get it back in .....now what do you do ?
Good luck my friend, i hope things work out . Bob .


---
Posted By: Chief 2 on 08/20/11 04:59am


Problem solved! It appears that although I had the camper level front/back, side/side, there was to much weight on the left front jack and it torqued things enough to get the slide out of alignment. It didn't take but about a 1/2 to 1 inch of lowering the jack to correct the problem. Thanks for the assistance!


---
Posted By: stickyeye on 08/20/11 06:11am


You really have to watch the frame flexing on the full wall slide models. When you load and unload stay on the slide out side and watch the twisting between the slide and the camper wall, you need to keep it to a minimum be using the appropriate jack. Always need to make sure the slide is squared up again before attempting to extend the slide. This goes for any large slideout model campers not just Lance. When you cut out pretty much the entire wall of a truck camper it is going to have some flex. These are not like trailers that sit on a sub-frame to support it, on truck campers the frame is the support structure. The flexing is not a problem but you do need to be aware of it to operate it properly. Had the same thing on my previous AF1150.

On another note, how do you like your 1181. I just picked up a used one a few months ago in excellent condition and so far love it. Any issues or pointers you know of that you care to share? Do you have the storm windows on yours? I talked with Sleepy and he said he feels they make a difference so I'm thinking I'll make a set.

Thanks,
Sticky

* This post was edited 08/20/11 06:18am by stickyeye *


---
">


---
Posted By: bobndot on 08/20/11 08:02am


Chief 2 , well that's good news , glad you found that . I have seen , on numerous occasions where people have cracked the outer filon skin will adjusting jacks. As Stickyeye stated , we have to be careful with the operation of tc jacks.

Stickyeye , I have storm windows on my Lance, they work well. I also added some Dow solid foam insulation to the cabover escape hatch . I cut it tight to make it fit snug . It holds itself in place plus it's covered with the Lance optional winter snap-on covers.
One other cold spot is the door , i cover it with a H.D. hanging drape.

They don't make a storm window for the emergency exit window. I fabricated some more Dow board cut to snug fit between the emergency handles . That's how its held in place. I cut two pieces the same size with a cutout in the center so i can see out . The cutout was covered with heat shrink plastic 'storm window kit' and sandwhiched between the two boards. I glued the two Dow pieces together and painted it black to blend with the tinted glass. You cant see it from the outside.

All these simple mods help quite a bit. Everything can pop out very easily in an emergency if needed.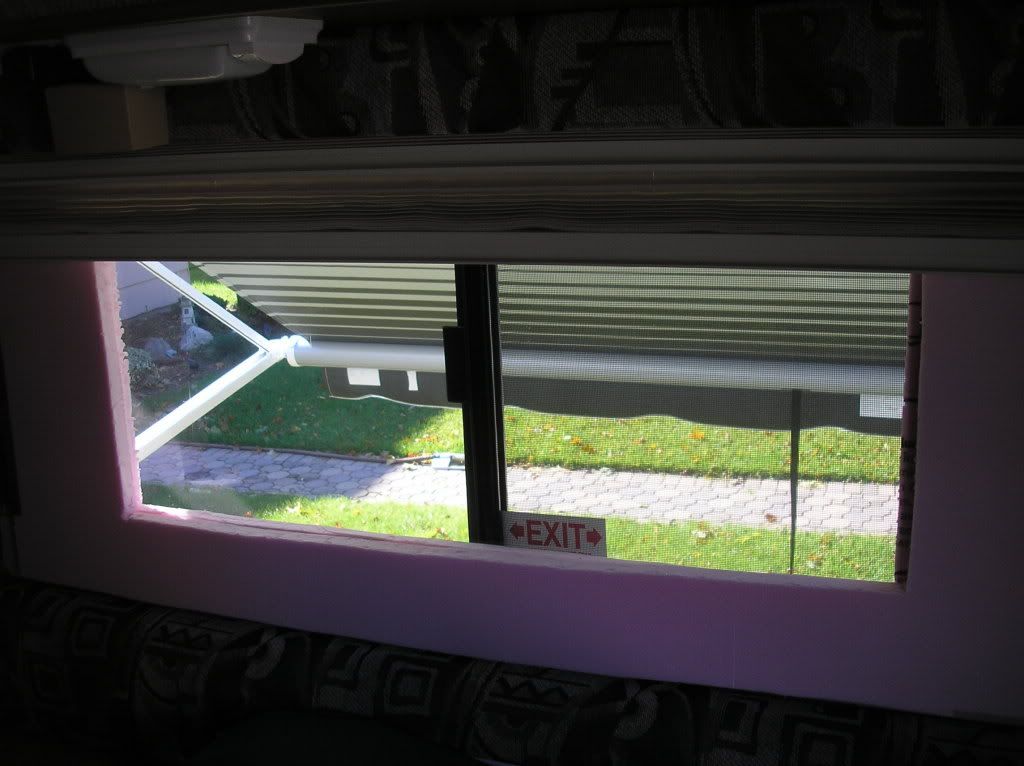 ---
Posted By: Chief 2 on 08/20/11 09:21am


Sticky,
We love our 1181. We have been on the road since 4-6 and have not had one issue with the exception of the side. The guy we bought ours from put every option available in 2005 including the windows. They do make a difference. As I am sure you know, the 1181 is one heavy unit, but all in all it seems to be built very well. What part of NJ do you live in? I use to live in Bergen County. A town called Dumont.
Chief 2


---
Posted By: stickyeye on 08/20/11 05:12pm


Thanks to both of you for the info. Well, that's three thumbs up on the storms including Sleepy so time to make a set from plexiglass. Pretty clever idea for the side escape window Bobndot. Chief, I live in Long Valley, NJ, it is in the nortwest skylands region. It's nice here but cost of living is nuts, as I'm sure you remember, so we have been considering relocating as many others have done already . Can't wait to get some real trips with the 1181 under my belt. Trying to get out to Montana this year if time allows before the real cold hits.

Sticky


---
Posted By: Chief 2 on 08/21/11 04:38am


We were out west and Alaska last year in our 5'r. That is why we bought the Lance. The 38' 5'r is not fun towing. Montana is beautiful an so is northern Idaho. We plan on going back west next spring. Good luck!


---
Posted By: btggraphix on 08/22/11 10:35am


bobndot - that is a pretty sweet storm window you made. Great idea.


---
Posted By: bobndot on 08/22/11 10:43am


Tnx. BTGG , it does work well . The price was right .


---
Posted By: RockyRoadCamper on 08/24/11 04:31pm


Best to only run the slides in and out when on the truck. If off the truck the 48 inch wide bottom of the t/c has to be well supported at all four corners, in addition to the 4 legs. I found this out the hard way. My dineete slide would not work and amazingly my dead bolt lock would also not work without the wood and jack supports. At the moment I have cribbage made out of 4 x 4 and 2 x 2 timbers plus some small aluminum screw jacks that do the job. Screw 'er up tight. I have some new jacks ordered from 5 Star RV and they will adjust up to 30 inches and are much stronger and bigger than the standard alum jacks and in the future that will cut down on the amount of wood I have to carry.


---