wildman4x4 wrote:
Kayteg1 wrote:
This forum build it wisdom (or not) over the years and you want to come to easy conclusion in matter of minutes?.
20 years ago triple slides did not exist.
First TC slides come around year 2001 and were single slides only.
So far you only answer the 6' question.
So will 8' with no slide satisfy you? even they don't come with side entry.
How about 8' with single slide? (even if they exist)
I've answered a lot of these questions already I thought.
But to recap my experiance with TC again.
First camper I owned was in 2005. It was a short bed S&S model with a wet bath. I never used the shower in that camper but camped a lot with it and figured out quickly that I would like more room.
I still had a short bed truck and trying to find a decent sized camper for a SB truck is HARD. So I came up with another idea.
I bought a Adventurer camper with a single slide. But it was made for a long bed truck. Instead of buying a new truck I decided to build myself a Red Neck Toy Hauler (RNTH).
I mounted the camper on the nose of a gooseneck trailer.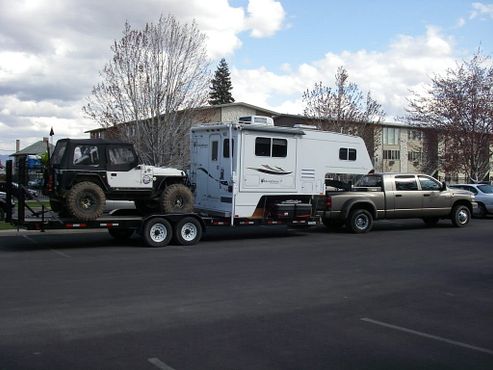 So based on my experiance with this I have made my choices in a new camper. I no longer own my RNTH as I listened to a ex-wife who wanted a MH instead. Never again.
I know that a camper with no slides won't be comfortable for me and I also know that other than one model of a single slide camper would it be comfortable for me.
So I want a camper with 2 or more slides and either come with some type of recliner or have a spot where I can install a recliner.
I am not going into any of this blind nor do I not have any experiance with campers and other forms of RV's.
My choices are based upon some knowledge.
But what does my choice in campers have to do with asking for others experiance with full timing in a camper?
I have 2 friends who full time in a TC and both of them have single slide campers with a rear door entrance.
I know from my experiance that I want a camper with a side entrance and a minimum of 2 slides.